So I posted these up the other day and someone questioned my graphs, and it got me questioning them myself. I have seen them act this way all season long, so it wasn't really concerning until @Modawg2k commented.
I have my lawn set to not water on the weekends, since that is when I usually mow. I had thought that might be causing Rachio to struggle in keeping up, but the more I looked at it, the more I realized, it schedules watering long before Allowed Depletion is reached. Is locking the weekends out really the cause of this?
As you can see, it watered Thursday AND Friday, even though it was above Field Capacity. Why? Then per my schedule, it didn't water over the weekend, and ran two days in a row to "catch up."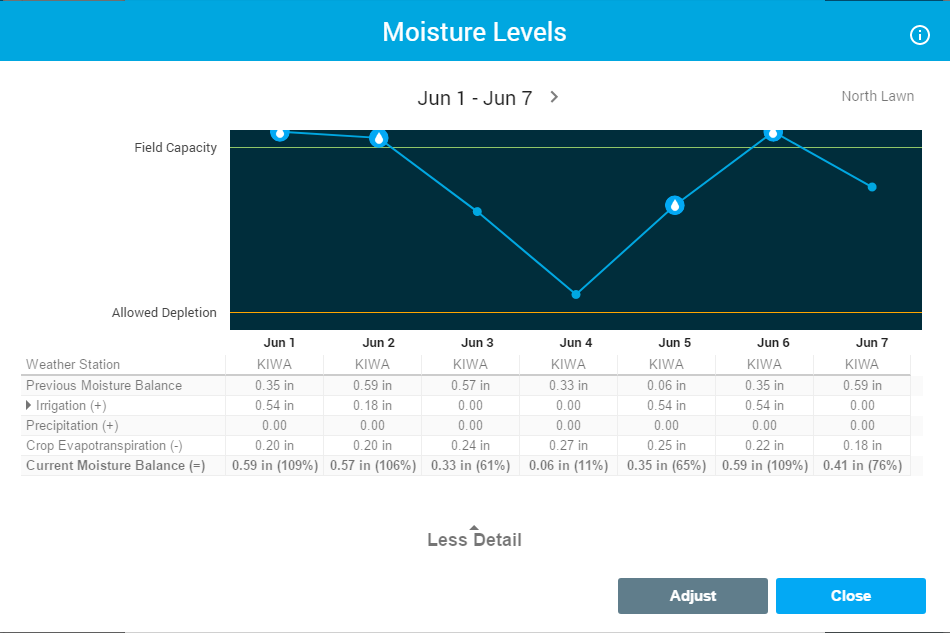 Here is the most recent moisture graph. Again, you can see that it ran Thursday and Friday even though it was above the field capacity. June 10th (Saturday) was a manual run after fertilizing, then we skipped Sunday (per my schedule) and right back at it on Monday even though it was well above AD. This is the first time in probably a month that I am scheduled to skip two days. It is also a first for it to allow itself to come close to the AD threshhold.