I want to say thank you for helping me out.


I love my Rachio

again.
Now that's what I like to hear! Please let me know if you have any other questions or feedback.
Have a great week.

I am having same issue…tried to call…HELP
Can you PM me a picture of the serial number?

Your email was incorrect in our v2 system, will PM you more details.
Same issue hear, with a Rachio controller that hasn't ever been installed. When I tried to install it the app hung at the 'looking up device information' step until I turned it off.
Also looks like your email is incorrect. I'll PM you the one to use.

I'm having the same issue. My old account was deleted from my phone when I bought a new one. Can you please reset so I can add it to the new account.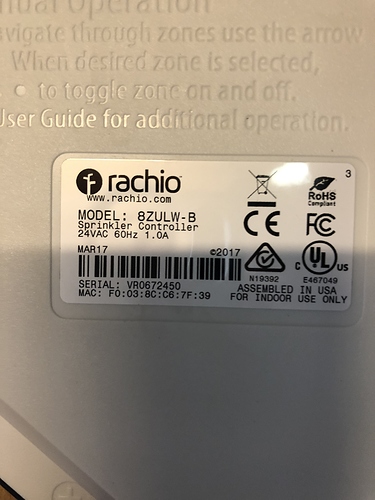 Are you still having an issue with adding the controller?
Yes, still getting the same answer,
I PMed you the email address the controller was assigned to.

That email address is not a valid one, it should have been jesim1@verizon.net, can we change the email address or remove
It
Hi! I'm having the same problem
Can you private message me a photo of the serial number? Thanks!

I need to reset my Rachio I bought from my neighbor.
I need to reset my rachio I bought from my neighbor. Can you help?
@Texaschili Looks like you are online, do you still need assistance?

We just moved into our new home and have therefore inherited a Rachio system. I was trying to set it up via the app but haven't been able to get it to connect to Wifi for some reason, but beyond that I assume I'll need to make sure the serial number isn't tied to the previous owners. Can you please make sure it's not tied to them anymore so that I can get it setup?
Thanks!