I just installed my Rachio flow meter onto 1" copper using the recommended 1" PVC to CTS SharkBite connectors. Thankfully no real issues arose. The trickiest part I ran into was forcing the copper into the top SharkBite connector on the last connection step…somewhat because of lack of grip and somewhat because of vertical movement restrictions on the pipe.
One thing I will note that I haven't seen mentioned anywhere else (although I may have missed it) is that SharkBite connectors include a plastic insert that come installed in the connector for use with PEX, but do not necessarily need to be there if using the connector with copper. See image below: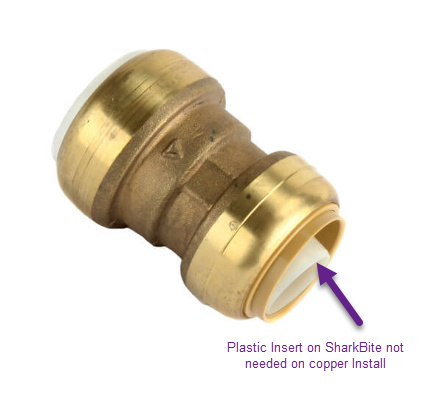 I measured this insert (on 1" connector) to reduce effective pipe diameter by just over 0.25" compared to Type L copper pipe inner diameter. I found instructions from Sharkbite on Home Depot website on how to remove plastic insert.
Instructions for insert removal are on page 5 of that guide, but I'll post the instructions below in case the link dies in the future.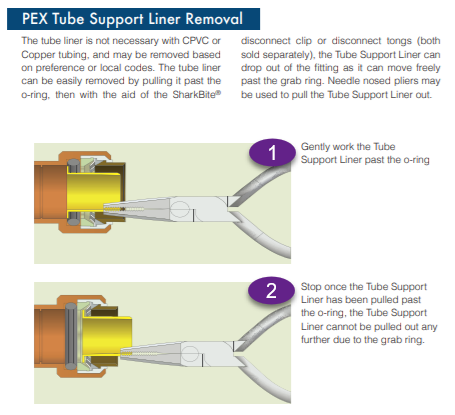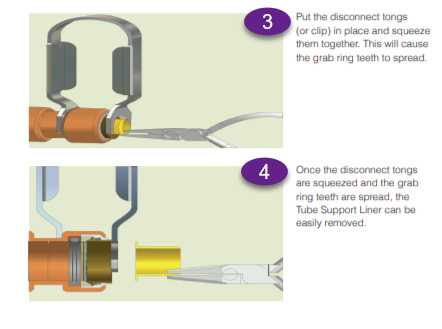 For steps 3 & 4, since I didn't have any SharkBite disconnect tools, I instead drilled a hole slightly larger than insert into a scrap piece of wood. Then, placing the wood on the ground, I aligned connector insert with wood hole and pressed connector down vertically. The insert dropped out with ease.
Clearly, Rachio has tested and planned for SharkBite installations without the insert removed, so there is really no reason to remove it other than eliminating whatever pressure loss is being created by the insert. I also saw no reason to leave the insert there since it was easy to remove…so I removed it.
@brad @emil From Rachio's install instructions, it is interesting that for installations with 3/4" cooper that it's asked to add a 1" diameter section of copper before the connector…yet the insert still would still throttle after the 1" section as well as introduce turbulence from the insert's leading edge.
Rachio…overall I thought the flow meter was easy to install for 1" copper. I found the instructions on the website good and the install videos especially helpful. Many thanks to those who installed before me here on the forum with insight on their installs. I haven't yet calibrated my meter, but will do so shortly.