No, that is not the case. Please re-read my original post. My controller is Gen 2.
No, that is not the case. Please re-read my original post. My controller is Gen 2.
Sorry for the confusion. I was addressing the issue that Columnmn was having which is caused by some of the data coming from generation 1 controllers. I think the issue you are experiencing will be addressed in the next iOS release of the app.
Thanks for clarifying, dgp. When will the next iOS release be available?
It should be available today. Will post when in app store, some exciting new features we will talk about.

We believe to have found the gen 1 firmware issue and are sending out the patch today. Please let us know if you have any further issues, and thank you for your patience!

I'll give it a test tomorrow and report back!
Thanks.
It seems to be working better now, only issue is that it doesn't show any data on the watering cycle or how long it's got left/taken.
Took a video:

Thanks!
I'm having the team look into this, thanks for the video!

We've been trying to reproduce that issue without luck so far.
Could you try logging out/in to the app and let us know if this corrects the behavior?
Thanks and have a great day!

We sent out another Gen 1 firmware fix that might address this issue.
If you can test out and let us know we'd appreciate it.
Thanks and have a great weekend.

Seems to be working properly now! I just need to figure out why two identical zones water differently now.
I think this is the same issue, so i will post it here. If not, move it to a new thread (or i will).
I have gen 2 with the android app (Note 8). There appears to be no way to stop a manual run (quick run or run a schedule) or a schedule in process from the phone app. If i pull up the web interface i see the image with the name, a back arrow to a line, a pause symbol, the forward arrow to a line, and a STOP symbol. This all is correct and works. On the phone however, there is not STOP symbol. When i get to the last item in the series either by allowing it to do its thing, or by pressing the advance button (forward arrow to line), i can do no more to stop it (there is not Stop symbol and pausing only allows for a delay). Something is broken in the app. I can send an image of both if you want, but i think you get the picture from my words.
this is from the web app. notice the stop square.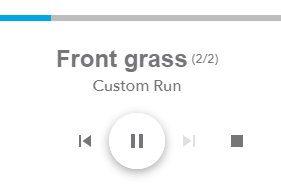 Hey @bug99! Any chance you could share a full, uncropped screenshot? And to clarify, you're on a Samsung Note 8 with the latest Rachio app?
Yes I am (V 4.1.3 (13855).
Thank you @bug99! Super helpful to see the whole screen. Pinging our Android team so they can look into this further

I am having the same problem no stop button
Just use the website instead. If you use it a lot, put a link on your phone's home screen. IMO for most purposes it's better than the mobile app.