Anyone done an install on copper pipe?
So a certain amount of 1" copper required on the side connecting to the backflow preventer? I'm getting mine installed into 3/4" copper too.
Yes @azdavidr, you need at least 6" of 1" pipe upstream from the flow meter. It could also be 1" PVC, but I liked the look of all copper.
Definitely helpful to see real-world installations — will help me design a new irrigation tie-in to my house plumbing. The previous home owners really blew it (esp. with respect to no backflow and below grade valves with anti-siphon) on their install. I literally have no idea how they connected to the main water supply as they did it subsurface; I suspect a basic PVC T and nothing more. I digress. Neat copper pipe photo. I've always been fascinated by Sharkbite though doubt I'll need to use them. Elsewhere, I usually chicken out and end up calling a plumber :-p
Here is what mine looks like. I used 1 in PVC to 3/4 in Copper Ball Valves, but would have preferred to use straight 1 in PVC to 3/4 in Copper coupling, but could not find any. All Looks ok aesthetically, I suppose it gives me the ability to isolate and may just remove the handles later. All works fine, some calibrations issue at first, but all sorted to now.
Picture: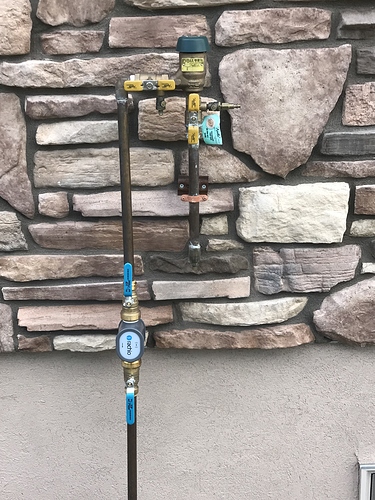 @knighti10, just to confirm, do you have 3/4" copper? Have you calibrated your zones already?
Yes, 3/4 copper and calibrated all zones except 1 as it is small and below 0.5GPM…
There is another challenge with the Flow meter, the inlet / outlets are not long enough and now the Sharkbite takes up the whole length of the fitting and you will not be able to get the Sharkbite release tool in there. So in the future can these be made longer to allow for the release tool to work with Sharkbite connectors? The problem now if we have issue with Flow meter the couplings either side will also need replacing a $40 un-neccsary extra cost…
Can't wait to see it!

Hi @knighti10, I do have some concerns about your install. We have seen inconsistent readings with the ball valves on both ends of the flow meter. This is due to the change in size from 3/4" to 1" and those ball valves have a particularly small opening. We've found that this causes too much turbulence and can cause bad readings. I'd highly recommend switching to an install like mine and illustrated in the 3/4" copper support article:
That said, I totally understand your concerns about getting the sharkbites off. Have no fear! I did the same thing as you to test and was able to get the sharkbites off. It's a little tricky, so I'll post a video of it as soon as I grab another flow meter Monday morning. Basically, using two small flatheads you can release the sharkbite a few mm. Then using two larger flatheads you can release the sharkbite and get it all the way off. I know it's not ideal and it's something we'll address in any future versions of flow meter.
For now, if you want to leave it can you DM me your flow meter serial number and I'll review the calibration data to make sure everything looks alright? It may be that you found slightly different ball valves that work better. Mine had an orange handle.
Brad
Brad, thanks for the reply my serial # F15747195. On the installation web site for 3/4 Copper the links to the fittings for Home Depot, Lowes and SupplyCenter shows ball valves, so that needs to change… The biggest issue I have now is I had back surgery 5 weeks and just managed to get the new flow added with some challenges, so I will leave it for now, but I will change it out later once I go through some physio. Will you be able to send a replacement Flow meter?
Before sending a new meter if required, yes pls review calibration data, these were from Lowes and yes the restrictions from 1 in PVC to 3/4 Copper is a smaller gap in the valve, so understand reading may be off. Let me know what you find.
Hi @knighti10, the article does link to the ball valve but it's only to be used on the downstream end as illustrated in this image at the top: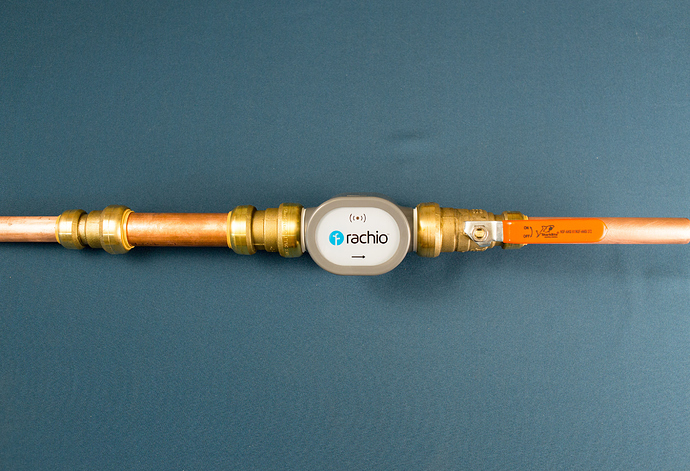 Thanks for sharing your serial number. I'm looking up your information and will get back to you shortly. Needless to say, we will get you up and working no matter what!
@knighti10 The meter seems to be working now. It may be due to the fact that most of your zones run well below 10 GPM where we start to see issues without the 6" run of 1". If you have a link break that goes to a higher flow rate we may not detect that properly without the install described above. We've started a support ticket and will work with you that way to get you squared away. Someone will be reaching out to you from support shortly. My apologies for the confusion.
Brad, support did contact me and hopefully I will see them this week as I live just outside Denver luckily… Thanks for great support…
Nice! Thanks for being a local supporter!

I'm scheduled to have mine installed tomorrow so this is pretty timely. I have several tree and shrub zones that are on drip. The 7 trees each have three 2GPH heads, so the flow should be somewhere around 42 GPH, or 0.7GPM. The tech specs. state that the low end of the meter range is 0.7GPM, so I'm getting close. Is there something that I can have my plumber do to improve my chance of success with low flow zones ? Will longer than 6" of run somehow help? Here's a picture of the location where the install will take place. The pipe is the one furthest to the left. Thanks in advance!!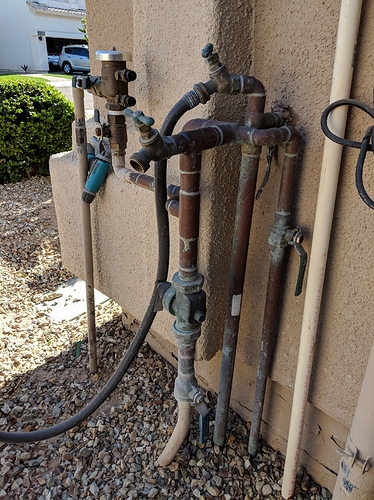 I'm also wondering where you think a good spot is for the unit given these requirements.
For ¾- inch copper or Poly pipe, you will need 16 inches of straight pipe between the backflow preventer and valve box.
For accurate flow measurement, there must be 6 inches of 1-inch pipe before the Flow Meter.
With the house being close to the pipe for a stretch I would prefer to go above or below that portion of the house. If I have it placed below that section, just after it clears the house I only end up with 13" of straight pipe downstream. Placing it above and I'm shy of the 6". I think it can be placed in the area where the house juts out, but it would have to be turned such that the flat part is flush with the wall, and I'm not sure that it would be able to turn. Will that be a problem ? Do you have any recommendations? If I have to change the elbows to get more clearance from the wall it will add more work/cost. Thanks in advance for any advice.