Soil Moisture dropping too fast! Where did 24% Soil Moisture go?
We've been absolutely drowning down in here in the South East with daily Pop Up Thunderstorm rain. Correctly, my Soil Moisture readings on all of my Zones went to and stayed at 110%. My next watering is currently a week away (7/7). This morning we were overcast, will very little evaporation or wind, and we're effectively in our 100% humidity portion of Summer. Anyway, the yard is sopping wet, and still has a noticeable softness to it. I would characterize my observed Soil Moisture level to be 105%+ still, yet Rachio is estimating 86%. There is no way that I'm below 100% SML at this point.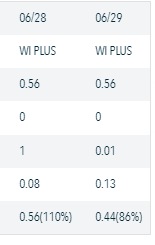 I would suggest that SML be calculated off of 110% of Previous Moisture Balance, not 100%. I am configured for 6" root depth because I have new sod. I started with a 4" depth, but figured I would give those roots reason to go deep and switched to 6" a week ago.
Is there any way to buffer the decline? it's simply too aggressive.
TIA,
Tony