Hi, I'm new to Rachio and am migrating my 13 zone yard from an old Rainbird controller to a Rachio Gen 2. Sorry in advance for the long-winded post, but I'm really excited about getting this system set up and have lots of questions!
For backstory:
Along with all of our other junk (more questions on how to set up for a lined bog later), we have 14 different bamboo cultivars here in our garden ranging from well behaved and docile to…well…threatening is a good word for some of them.
The bamboos are actively cultivated and managed (sand-trap maintenance, fertilization, and pruning 3-4X per year depending on the weather/motivation), and are irrigated for performance and maintenance. (VERY heavy irrigation during early shooting, then tapering off as the new canes mature. In my case, I work to avoid directly watering either the wall, or the sand trap, so as to lessen their attraction to new rhizome growth.) The beds are irrigated with Techline 0.9GPH drip hose at 12" on center throughout the beds.
I'm looking for a good starting point Crop Coefficient for timber bamboo groves. In my case, at full maturity here in SW Portland, a managed grove is usually 3-5 inch diameter canes that are 45-65 feet tall at about 18 inches on center, with a max root depth of about 16-18 inches if you don't make it angry. Simply calling that a Warm Summer Grass seems a bit disingenuous to me. Suggestions?
The picture below is of one of our combined stands for reference:
The terrace beds are dry-stack stone, oriented East to West with full Southern exposure for the lower (Golden bamboo), which provides deep shade to the less drought tolerant Dulcis and Marliac in the upper terrace. The walls themselves are between 18-22 inches deep, and are back-filled with quarter minus aggregate. There are sand traps between the walls and the planting beds that are approximately 18" deep X 15" wide.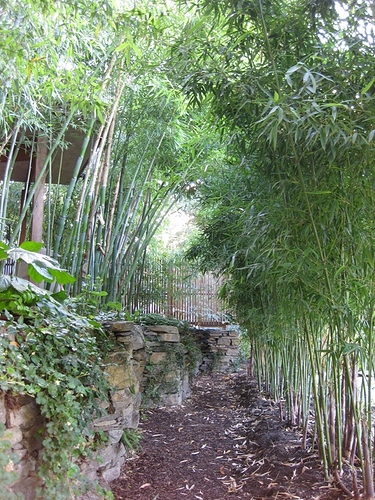 Any and all thoughts from people who have bamboo in general, or my beds in particular would be greatly appreciated.
Thanks very much in advance for any feedback.