I have a Rachio 3 8-zone controller and read with interest about the new Valve Monitoring service. I am using the latest and greatest Rachio iOS app (4.12.1) on an iPhone 13 Pro with iOS 16.5.1. However, the Valve Monitoring add option doesn't appear on my Irrigation screen, and when I try to add it as a new add-on device I get the error "Rachio 3 controller required".
I just spent a fruitless hour with Tech Support chat who asked the same questions over and over, and ended with "Hmm… that's odd. You're definitely using a Rachio 3 so you should be able to add this feature." I told them I was using a HomeKit test version of firmware and BEGGED them to push me the latest and greatest firmware but they kind of ignored my request.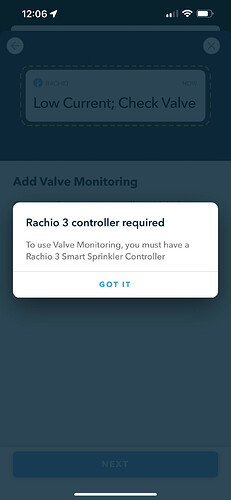 Anyone experiencing the same issue on a Rachio 3 with the same app and iOS version as I?