Hey guys! Though I'll show my underground install. It did not go as smooth as I initially planned but seems to work fine.
First of all - my pipe turns 90 degrees right after the back flow, and goes under the side walk, so I had to put the flow meter on the other side of the side walk. Then It turned out my main pipe is actually 1-1/4" and it's buried along with 1" and 1/2" pipes tightly together in a single trench.
I initially looked at the Orbit PVC-Lock fittings as underground manual prescribes, but that did not look promising.
I ended up rising my 1-1/4" main line a little bit with 45 elbows and using a couple of 1-1/4" unions rated up to 180psi. Then threaded 1x1-1/4" adapter and male thread to slip fittings glued to the meter with ABS to PVC transition glue (green stuff). I did let the green glue dry for a full 24 hour period.
1st try failed as I tightened up the unions right after I glued it all and the outflow elbow to the main line blew up during my calibration run right after the 20GPM zone stopped, because of the water hammer I guess. You can kinda see that 1st attempt on the picture #3 - outflow elbow ended up crooked.
2nd try went smoother and It appears like everything is holding just fine. I can access the battery compartment by releasing the unions. Picture #1 shows how it currently looks like.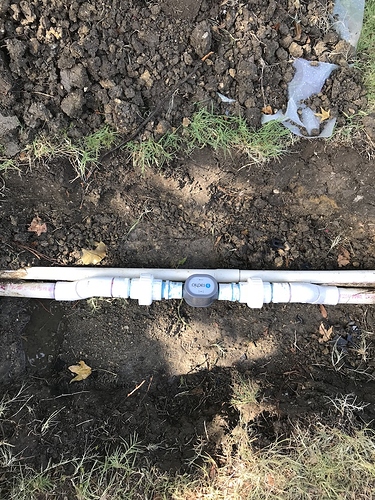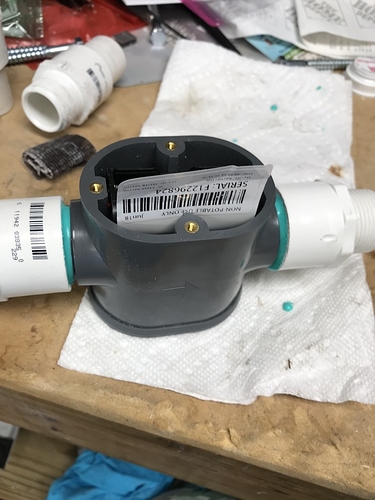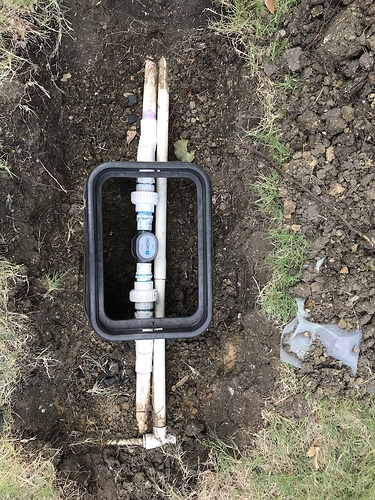 Meter calibrated, radio signal strength shows up as "Good" and the following flows were detected:
Zone1 12.8 GPM
Zone2 20.9 GPM (rotors)
Zone3 2.4 GPM (drip)
Zone4 13.0 GPM
Zone5 15.6 GPM
Zone6 10.3 GPM
Hoping it won't blow up