Thanks to my new Rachio units, I'm finally getting to know the irrigation system at my new house. Two major questions have emerged so far.
First, because the system watered at night, and I had other things to work on, I never took the time to really investigate what was happening when I watered. My Rachio's make that a ton easier, so I finally got to work today. I discovered lots of broken and stuck heads, but I think I've got those sorted out.
One sprinkler is gushing water from somewhere downstream of the head and pooling like crazy. I'm confused by what's going on. Pictures aren't the most helpful so here is a video of it. (Dropbox link).
I'm only starting to understand the mechanics of an irrigation system. At first I thought there might be another sprinkler head further back. I chopped away some of those trees and poked around back. It doesn't' seem like there's another head, but it's possible. My other guess is that some sort of PVC connector is busted back there.
What's my next step in trouble shooting this? Lucky the water drains fast enough that it doesnt seem to overflow into the pool which is right a foot away (although I fear what it's draining into since these trees are built into the concrete of the pool area).
Second question - There are two sets of sprinklers that the previous owners stopped using, that I'd like to start using. They are not connected to the three zones that are in use, and I have no idea how they disconnected them.
When setting up my Rachio I noticed a few unused wires.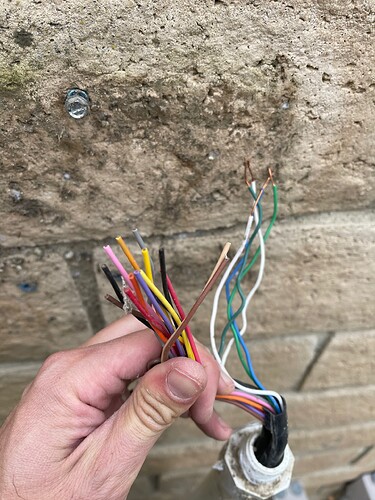 You can see the five wires with exposed copper (two whites, blue, and two greens). Those all work as they should. All of those other wires, without copper exposed, are not in use.
I spliced a handful and plugged them into an unused zone but nothing happened. Is there an easier way to see if any of those wires are actually connected to something? Would an installer string that much extra without a use? My hope is they planned ahead and there's a way to use these as zones.Speaking of -
I'd really love more than three zones. The current zone setup makes no sense.
Zone 1 is the grass and some fruit trees
Zone 2 is some other fruit trees and the left side of our property
Zone 3 is the right side of our property
There is a far more logical way to zone this. Is that DIY fix, or do I need to call in someone to update?
Thanks, this forum is incredibly helpful!