All, I just installed my system less than a month ago. I currently have one schedule that is doing all of my zones with flex daily. This weekend, I am doing my fall overseed. I have disabled my previous schedule and I'm trying to add a new schedule following the steps below. However, I get a problem when I try to set the end time. Can someone please help, I would like for the schedule to run from 8 AM to 8 PM. I really appreciate it!
Here's the issue I get.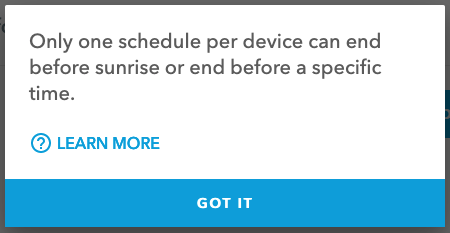 Go to the Irrigation tab, then you hit Schedules on the top part;
Then hit Create Schedule;
Select Fixed Schedule;
Select the zones you want to water, and name your schedule after that;
Select Daily Interval, and then Every day;
Select Start at a specific time and set it to 8 AM, for instance;
Start/End date you can set as you wish;
Then you hit Manual Cycle and Soak;
Cycle time will be 5min and Soak time 55min;
You hit Next until Watering duration;
On Watering Duration you will set it to 1hr 5min; (increase or decrease this duration by 5 minutes for each hour you'd like the schedule to run.
Your schedule is created.