iOS app 4.1.12
I've done two quick runs today due to some pending heat and our pine trees sucking the ground dry.
1st one, Zones 1/2/3/5 for 15 minutes each, 60 mins total.
2nd one, Zones 4/6/7 for 15 minutes each, 45 mins total.
The notifications on my phone properly said "Quick Run will run for XX minutes." and then followed up with the "Quick Run ran for XX minutes." for both quick runs.
However, when I refresh today in the app calendar then go into the events it is missing the first zone from each quick run. Zones 1 and 4 are nowhere to be seen and it looks like each quick run skipped a zone. I didn't think to go outside and confirm each zone was running so I'm kind of not sure which to believe.
Zones 1 and 4 missing.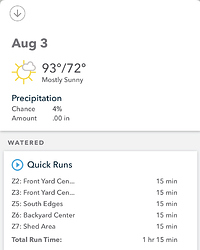 The start/end of the 4-zone 15 min per-zone quick run notifications. The 2nd run was also correct as far as notifications go.