Good Morning Rachio
I would like you to help me shed some light on the soil specific values for 'available water'.
Available Water (AW) is AFAIK defined as Field Capacity (FC) - Wilting Point (WP) in units [in/in] or [%]. It's the volumetric fraction of water extractable by plants, i.e. volume water per volume soil.
There are many tables out there and they do not all agree but I found this to be a representative summary: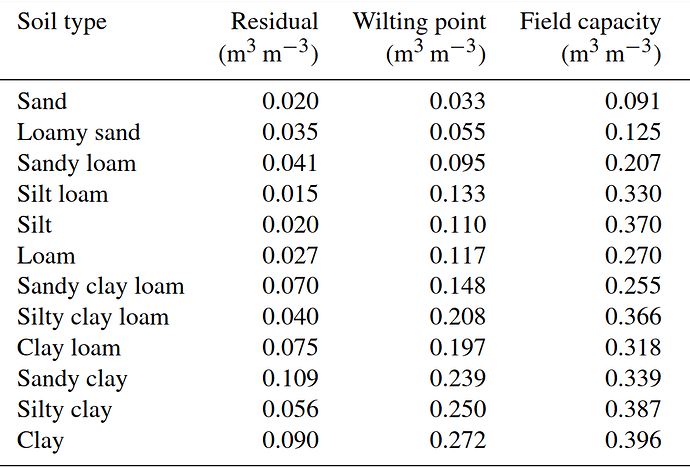 Now in order to avoid water stress we do not want to deplete the water reservoir all the way to WT.
Literature recommends to keep moisture levels between 100% and 60% of FC, so readily available water is RAW = 0,4 x FC.
Below I put together a table summarizing these values for 4 soil types:
The last two columns are Rachio's numbers.
SOIL          FC %   WP %    AW %   RAW %      Rachio AW %  AW (@50% depl)
sand          9.1    3.3     5.8    3.6        5.0          2.5 
loamy sand   12.5    5.5     7.0    5.0        7.0          3.5  
sandy loam   20.7    9.5    11.2    8.3       12.0          6.0 
loam         37.0   11.0    26.0   14.8       17.0          7.4

First question: Do y'all agree on the above?
Seconds question: Should we not deplete further than 50%, say 70-80% to consume all of RAW before irrigating?
The motivation behind all of this is to irrigate deeper thus promoting deep-rooting grass over types like poa trivialis. It has little effect on the total amount of water.
Cheers, Sebastian