I may have found a bug in the software or at least it did not act as I would have thought.
Here is the scenario
All zones on daily flexible schedules (which I love by the way)
April 29
2.5 inches of rain
My PWS went down so was not recording rain amounts
Once I had my PWS up and running went into my web app to "Fill" the zones to ensure the missed rainfall was captured (at least that was my thought process).
The first zone I went too had a forecasted 107%.
I manually filled the zone and the forecasted amount went "down" to 100%. Hmmm. decided to not do any others.
Here is where the problem began.
On April 29 (the date that I adjusted the zone to full) the software entered a -3.09" of irrigation.
For the remainder of the day only recorded 0.8" of rain.
Result was at the end of the day the zone was shown as empty, 0%
April 30 watered 1" in just that zone.
Seems that when the zone was above 100% and I adjusted to "Fill", something in the software forced a -3.09" into the irrigation.
Will try to upload screen shot below.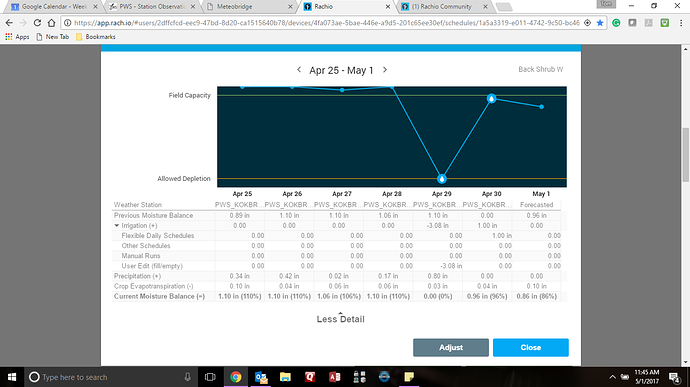 User error - probably, should not have tried to fill a zone already over 100%.
Software error - I think so, should not have entered a large negative rainfall?
Thanks