I attempted to add the hub to my home again and again, but the app or device appears to be defective.
For the steps suggested, I was able to complete the first 3:
Add the Hub from the app in the plus blue sign and select Smart HoseTimer.
Select my home.
Connect the HUB to power the adapter until the light is yellow. (This is required) Next.
Then on step 4, it fails:
4. Scan the QR code on the Rachio HUB or add it manually.
I scan the QR code and select the Rachio Hub wifi, which appears connected: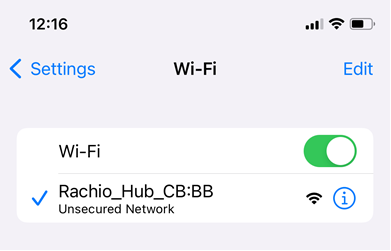 But when I return to your app, it just hangs here: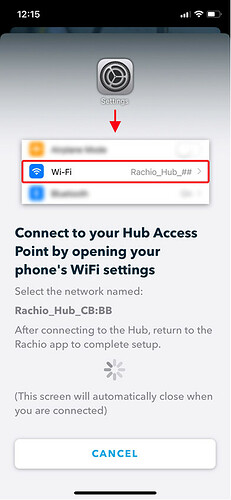 I can't reach steps 5 or 6:
5. Chose network, next. (Please make sure to select your network instead of the hub).
6. Wifi password, Hit next and connect.
I've reset/connected/disconnected multiple times. I've created a new home and received similar failure. Any thoughts or is this a defective return item?