I've been watering manually since I de-winterized this spring. Why? Because my Rachio 2 isn't working. I've been trouble-shooting when I can find time, but it's got me really stumped and I'm hoping one of the bright minds here has a solution or at least some ideas.
Last fall when I shut the system down everything worked fine, but now… no love. I've done a hardware reset and a Wi-Fi reset. The controller shows all four tree lights. The app thinks it's running whatever zone I call up, but no water. Both the app and the controller buttons will light the appropriate number-light on the controller when called, but I get no action from any called solenoid. All 5 sprinkler zones still work, but only by turning the solenoids by hand.
I do not have a Master Valve and I'm on City water, so no pump start relay. Haven't done any digging or yard work that might threaten the wires. Checked the wire insertion points in the controller in case my removing the face plate disconnected something, but all are snug. Even pulled the common wire and increased the length of the copper end (as it seemed short when I checked it for corrosion) before reinserting. I traced every wire (starting with the common) to be sure I have connectivity and resolved and replaced all twist connects on the common wire with fresh.
The controller has two wires not connected. The blue is unused at the controller and runs to the vault in the yard where it appears as never-unused. The orange comes from the Hunter Sensor unit and was hidden behind the controller when I traced, so I doubt it was connected.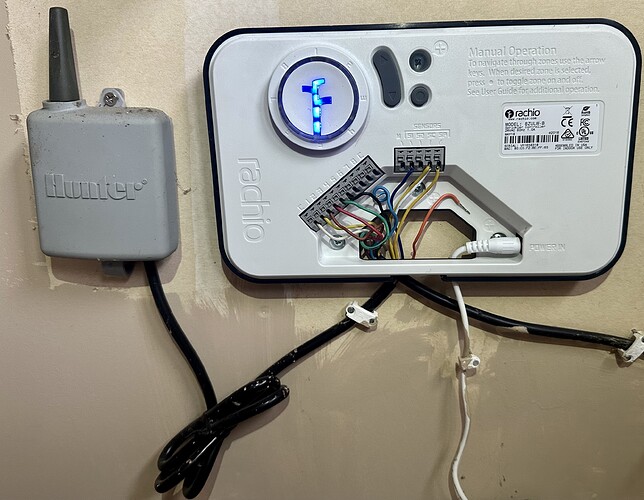 Anybody have an answer or idea?