I don't know if you guys have any way to check for missing NOAA station data, but thought I'd share it if you do.

Yesterday morning we had very heavy rain for a couple hours. The sun later broke out and dried everything off with temps in the 80s. Enough to trip our rain sensor set to 1/2". I looked at my moisture charts this morning and saw 0.00" of precipitation reported for yesterday June 24th.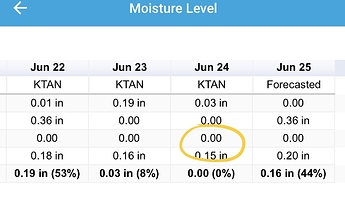 I headed over to http://w1.weather.gov/obhistory/KTAN.html, the NOAA weather station we use 3 miles away at an airport. I knew 0.00" was not true unless the station didn't receive the same storm. Interestingly the observed weather column states rain yet the precipitation columns are empty of any rainfall data.

Our rain sensor had fallen below 1/2" nearly 5 days prior. I have to imagine it was or nearly entirely dry by the time it tripped yesterday morning. I don't remember any significant rainfall over the few days before yesterday morning.