I just purchased an 8-zone Gen 2/installed it and I have a few questions. I've been reading countless threads trying to find answers for my issues below but have come up dry.
I have multiple zones that have a mix of rotors and sprayers and mixed vegetation type. I'm hesitant to move forward with the flexible weekly schedule because it's recommending the times shown in the screenshot below. Any advice? I've looked through a decent amount of threads and support articles but can't seem to find one that mentions mixed vegetation type. All of my grass is St. Augustine. Soil type is loam and clay I believe.
For instance, Zone 1 is mostly grass but has 3 trees in the middle of a 10ft diameter mulched garden with Begonias and Impatiens. 6 rotors at 5GPM and 1 spray head.
Likewise, Zone 3 is mostly grass but has a large kidney-shaped garden with large Texas sage bushes, 2 mature 7ft rose bushes, and a young rose bush. 4 rotors at 4 GPM and 3 spray heads.
Zone 2 is all sprayers but is half garden and half grass in two separate areas. The garden contains a long strip of boxwoods and 8 ligustrums. All spray heads.
Zone 4 is a flower bed with ligustrums, laurel pedulum, petunias, variegated gingers, foxtail ferns, and an oak tree. All spray heads.
Zone 5 is all grass and all 4.0 GPM rotors
Zone 6 and Zone 7 are all grass on a slight slope and all spray heads.
I have a total of 68 sprinkler heads over the 7 zones (I didn't install, they came with the house).
Any suggestions on what I should look at changing?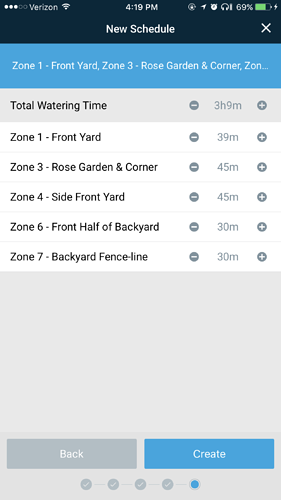 Best Regards,
Phil