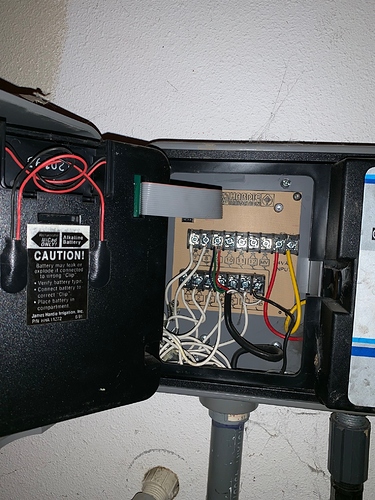 Switching from an old James Hardie system to a Rachio 3. All valve wires are white and am barely able to make out zones on duct tape labels. I've connect those white valve wires to the corresponding zones in the Rachio.
There is also a thicker black bundle with a blue, green, red and white wire and a medium thickness black wire.
On the Hardie, it looks like the medium thickness black wire and the white wire from the thicker black bundle are in the common slot. The blue/green/red wires are connected to a valve for Zone 9, which I never had (only have 8 zones).
I don't have a master valve or any sensors that I know about (I purchased the house 2 years ago). Can someone tell me where the blue/green/red wires go on the rachio and which wires belong in the common slot?
Thanks!