Hi,
during the troubleshooting of Weather Intelligence Plus (and after having opened several threads in this community without a solution) I actually discovered that my location is not well covered by Aeris Weather Services.
Infact searching for my town in the Aeris portal, the selected meteo station is 35km away up in the mountains, while I am at the sea side.
Also, it has no WIND and RAIN sensors!! (infact Winds and 1-hr precipitation are both N/A).
This is why I couldn't get accurate rain skips!
See weather portal: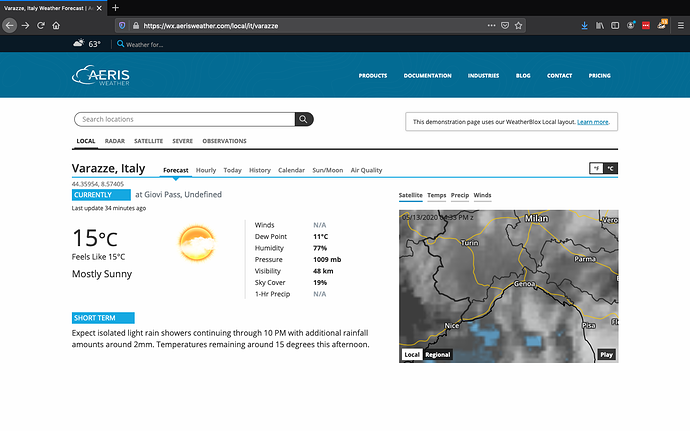 To better understand the situation, "Varazze" is my home town that is a location by the seaside, while "Giovi Pass" is located 35km away up north in the mountains. The two locations do not share the same weather nor temerature nor rain.
I also discovered that many other locations in Italian Riviera have the same problem, making useless the most power function of Rachio3.
Would it be possible for the user to select another weather forecast provider?
For example, WeatherUnderground has much better coverage and accuracy.
I have selected my own PWS station instead of the WI+ in the settings, but it can only tell the current weather while the forecast remains the one instead in Aeris that is completely wrong for my location.
To be honest if I knew that the WI+ was not working, I would have not purchased the product.
Is there any workaround to make my controller work with Weather Underground instead of Aeris?