Has anyone successfully used Iro with a mobile hotspot device?
Hi @rj_bauman, thanks for posting your question. We've had a few users on support run into connectivity issues with hotspots and ours not have a problem. From my own personal experience, I'd advise against using a hotspot.
Interested to see what other users think…
Best, Emil
@rj_bauman @emil If the hotspot has a good cell signal but poor WIFI management you may want to try a wireless router with WAN management. I've used these in several solutions over the years and they work well. Something like this…
@MaverickC2 thanks for sharing this, great idea!
@rj_bauman – I dug through our support site and found a few users that have had good luck with FreedomPop – might be worth checking out: https://www.freedompop.com/
If anyone has had good luck with a mobile hotspot, please let us know.
Thanks, Emil
I will check it out. The reason for using a hotspot is that I want to install Iro at a rental property and not have to ask tenants if I can "borrow" their wifi connection.
I will report back with my findings.
i would pair it with a pos wifi router and ask them to plug it into their switch. im curious though, do you have your irrigation valves sitting on a dedicated water meter?
I do not want to impose on my tenants and connect their switch. The valves share the main water supply, but I (landlord) pay the water bill so there is no concern about separating landscape watering from normal usage.
dang, you are a nice land lord.
i learned the hard way, make the renter open the utilities in their name.
but i understand why you are doing it…let us know how the cell service works out.
@rj_bauman, without WiFi the Iro might not be the best solution for your rental property

…I say this in full disclosure in that while I'd love for you to join the Rachio community, I also want you to be able to benefit from the Iro's intelligent features to save water. In order for the Iro to do this, it needs to be connected to WiFi so it can communicate with our cloud to integrate with weather services amongst other APIs for updates. Also, the Iro doesn't have any local controls on it. All control takes place via the mobile or web app.
Please do keep us posted. I think trading free water for WiFi is a great deal…maybe I can be your tenant

Hope this helps.
@rj_bauman I am in a similar situation with a rental property and was considering a Freedom Pop hotspot. These are free right now with $40 activation and free 500MB data each month, so I figure I have little to lose. Have you had success with a hotspot?
Does anyone have an estimate for data usage of the Iro under normal operation, connectIng to the unit perhaps once a month to check status?
I can't speak to hotspot success, but the data usage is going to be minimal. I'd say less than 10K per day, and nothing on days when the schedule is not running.

Interesting web page - freedom pop. Depending on what path you go through it you get different prices. I'm not seeing any $40 activation free devices though. One time I found $179, one time $79.
Edit: Found the $40 deal, comes with free trial that will auto-bill after some time.
Overall, looks like a good deal, but need to watch the T&C carefully.
I've had success using a mobile hotspot at a rental property. The FreedomPop Mingle LTE device was free, activation was $40 and there will be zero recurring costs because the data usage is far less than the free 500MB/month. Be sure to cancel Premier service to avoid a monthly charge. http://www.jadito.us/2014/07/07/canceling-freedompop-premier-service/
On an IRO gen 1, the blinkup process worked as expected by first connecting a phone to the hotspot WiFi. FreedomPop uses the Virgin Mobile = Sprint LTE network and is working fine even though it only shows 2 bars. I mounted a plastic index card box to the wall, drilled a hole for the power cord and inserted the hotspot.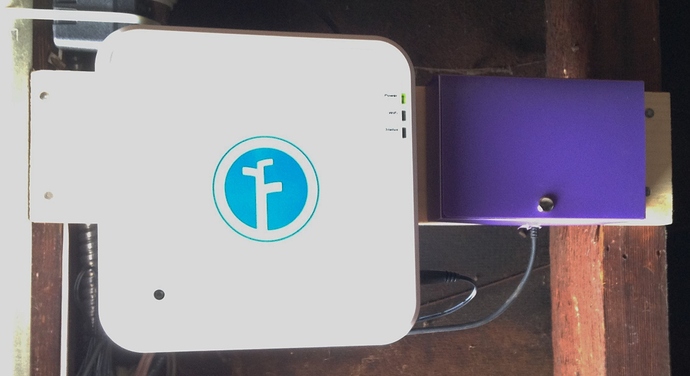 That's awesome, thanks for sharing!

The above is what you have to do for two scenarios:
The Iro cannot be located near a WiFi signal - i.e. an Iro's out in a weatherproof box somewhere on the property, centrally located to the first 16 zones. And then another Iro's somewhere else out on the property, centrally located to the next 16 zones. Etc. You may even have to implement some kind of small solar charged electricity providing station. Think small or few municipal parks here.

The Iro is located near a secured WiFi signal that's not available to the Iro. I.e. the building owner versus tenant situation written about above.
We encounter the second situation occasionally with networked thermostats that we install. We used FreedomPop with good success, as written above too. Now, though, the Sprint 3G network is going away. Thus, you need to be sure that you're using an offering from FreedomPop that's 4G.
What would be nice is if the Iro would have an Ethernet connection too. Then the Iro could be viewed as a POS device, and you could take advantage of all of the cellular offerings for POS equipment.
Best regards,
Bill
@a0128958, good to know! Hopefully the free units are all on 3G.
Has anyone tested Gen2 on FreedomPop or another hotspot yet?
I wanted to update this thread and let everyone know I have been successful using a FreedomPop hotspot and the Gen 2 Rachio (8)-Zone Controller. I purchased the Franklin Wireless R850 hotspot from FreedomPop and I utilize their free 500MB monthly data plan. Setup started good although the Controller initially would connect with the hotspot during setup, start the firmware update, then die with an error message that indicated a problem connecting (Oops, something went wrong…). After multiple attempts to connect and configure I was able to solve the issue by entering the Serial Number of the Rachio Controller MANUALLY rather than using the automatic bar-code scan of the Serial Number during the setup. I am extremely happy with this setup and hope others benefit from it as well.