I have been using Rain Bird's esp-smte for a while and was very satisfied with its features. But since it doesn't have the Wi-Fi interface thought of trying Rachio 2nd gen.
So far I like every feature of Rachio but still desire some missing feature of esp-smte like options in Manual watering mode. For example I cannot choose all the zones I want to water for a specific time and say "GO". This feature is very helpful when you want to water certain zones for a brief period of time.
I have multiple zones in which I have different vegetation with different sprinkler heads. For example apart from Lawn turf I have flower beds with shrubs that have risers and Vegetable beds with drip. Recently when I applied lawn fertilizer and I wanted to water just lawn(8 zones) but not the other ones. I had to manually select one zone run it for a specific time; select the other one, run it and keep doing it manually for all the other ones. It was very frustrating and time consuming. Instead I wish to have the below fetures.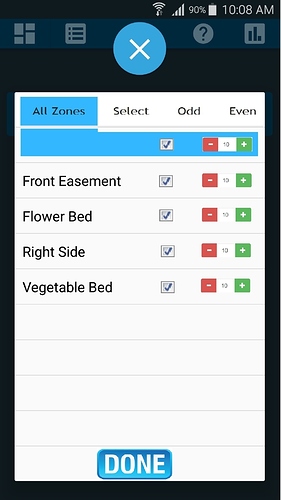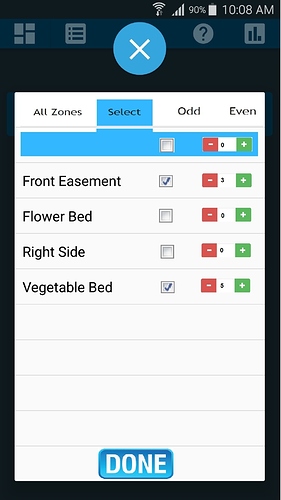 Other features I'd like to have is the ability to skip a watering session from the schedule. For example as per schedule On Tuesday Front Easement (zone 1) will get watered for 14 minutes in 2 cycles. But someone parked their new car in front of it and I want to skip watering it on Tuesday so that it can be picked up next day.Now sure if I can do it now.