My trees were due to run today and I saw this message on my screen this morning: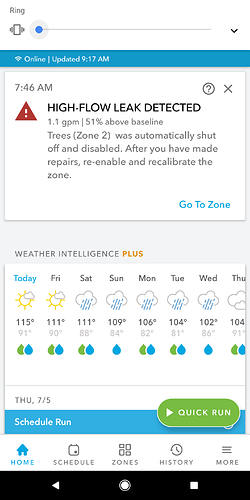 I'd just installed and calibrated my flow meter a couple of weeks ago, so sorry to say but I was questioning whether or not it was real. My tree drip line had previously calibrated to 0.7GPM, very close to the low limit (0.5GPM) of the flow sensor's range. The high is 115F here today and my flow sensor is in the direct sun in the mornings, so I was wondering if the heat was throwing the accuracy off. I took a stroll around my yard before heading into work and guess what I found.
This zone runs for 5 hours. Since the detected flow was 0.4GPM over what it should be, I figure I saved 120 gallons today (0.4GPM * 60 MIN/hr * 5hr). This is in a part of the yard where I might not have seen it for a while, so I could see not catching it for a few future irrigation cycles as well. Nice!