@franz - I updated the app this morning and noticed that the usage (gal) its not rounding maybe?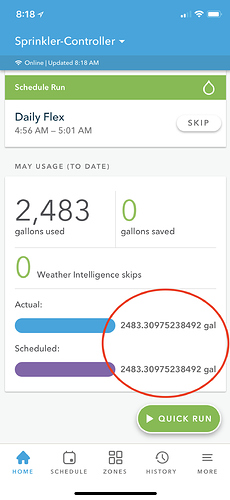 yep, I see the same.
I'm on est. gallons. no flow meter.
We are releasing 3.4.1 today to resolve that as well as some R3 onboarding issues.

It's fixed in 3.4.1

My I tag onto this to suggest you put the date into the history (unless I'm missing something) rather than just the time? Maybe those that have used the app longer than I have (rookie) figure it out another way? Or don't
The date starts showing when an entry is a week or more old.
OK, I see that. Thank you! I had to scroll back through several pages of actions (Zone 1 starting, Zone 3 soaking, etc) to find a date. Maybe even a SORT by date, would be an good idea. You clearly think it's worth keeping keeping the history for a reason. Why not make it easier to access?
It just seems like showing a date on all of the "action tiles" would be easy to do. Maybe I'm the only one that would use it?
You guys are great! This is the best and most responsive customer support I've seen in a long time. I don't mean to make it difficult for you!