I am so excited about the results this season that I have to share the joy, but should there be flex schedule skeptics still, to help them see how it can work. This is my 3rd season with Gen2 on 9 zones, and it required some tweaking and experimenting in the first two years, but 2018 ran pretty much on autopilot, maybe one or two "Empty" commands to force a run when i lost my trust in the rain forecast.
Below you see this year's chart of rainfall and irrigation on a daily basis for my Raleigh, NC location. Quite evidently, we had distinct wet and dry spells, which were handled beautifully by rachio.
If you wonder why on certain days there is a red as well as a blue bar, this was when there was no rain in the forecast, but it happened anyway later in the day.
The small ones (like the single one around Aug 18) represent two very sensitive zones, that always want to go first as they dry out the quickest. rachio is on it!
The tall red ones never were "all zones on deck" like in previous years where I intervened more, but the flex schedule was selective and triggered strictly on demand.
My rain sensor gave peace of mind, as here in NC we often get strong local precipitation that does not get reflected in the KRDU (2.6mi away) weather station (or Aeris). The opposite is true as well, and that's when I hit the "we are still thirsty" EMPTY button.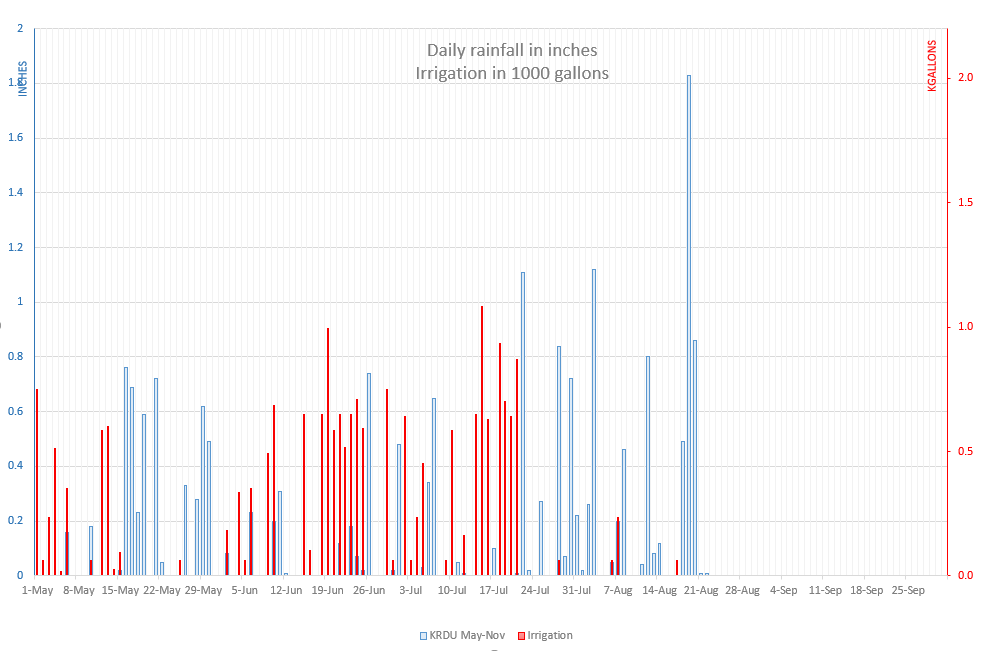 To put things into perspective, below is my year over year chart (blue is 2016, green 2017, red 2018). Solid lines represent irrigation, dotted is rain. It is striking to see with how little rain this year (dotted red), rachio managed to get by with the lowest irrigation volume. And the yard looks its best in all three years! Great news for my wallet, with a minimal August bill.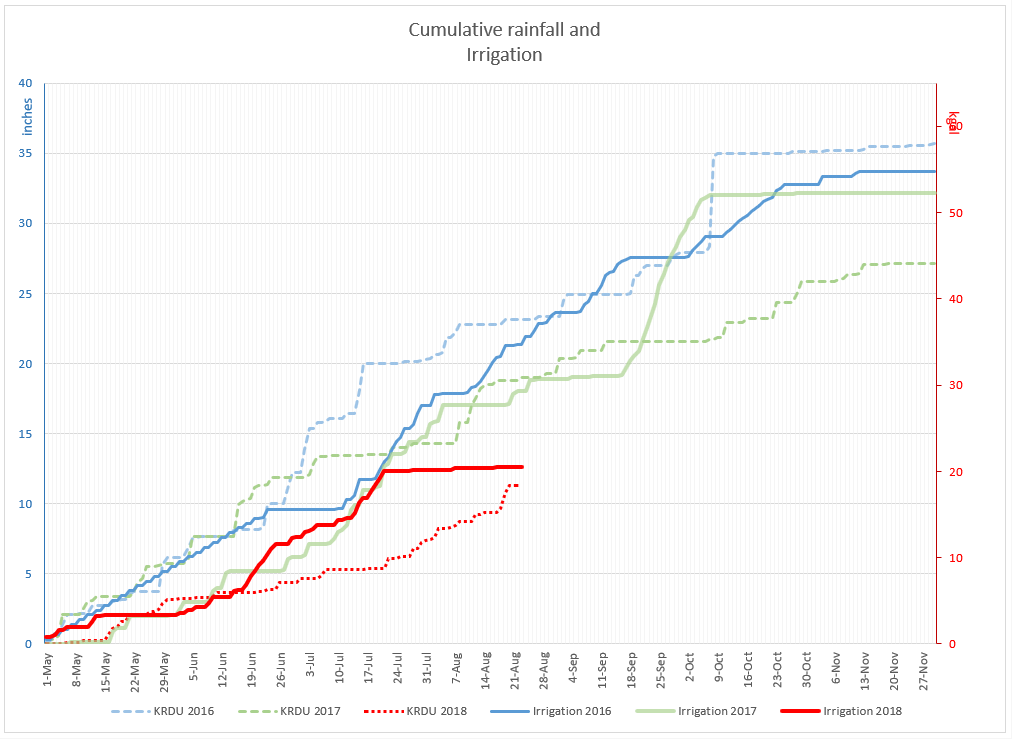 It might be noteworthy that last year I overdid watering after overseeding (solid green in September), but as you can see, they did it right at the start of a month without rain. In 2016 the blue massive precipitation in October was simply a hurricane passing by and dropping 6-7 inches, but the soil could not hold on to it, and irrigation had to restart quite quickly.
With this, THANK YOU rachio team for a great product and support, and this community for all the interesting info I could pick up along the way.