I finally got our Gen 2 controller installed today, but we just happened to hear that the Hunter pump start relay (model PSR22) is making a loud noise every time a zone is turned on or off (we've only done manual tests so far).
According to the Hunter site, it's either because of undersized wires or dirt or insects inside the contacts of the relay. Eliminating the easy part first, I checked and inside the relay box is very clean and no evidence of issues with the contacts. As for the wiring, it's probably only 75 feet from the controller to the pump start relay, and the Hunter site says that 18 gauge wire is good for up to 243 feet.
As far as I know (without uninstalling the Rachio and reinstalling the old RainBird controller), it wasn't making that noise with the old controller, but to be fair it may be that we simply weren't within hearing range. We heard it from inside the house, though, so I'm going to reinstall the old controller as the last resort.
Now, here's where it gets really weird, or seems weird to me.
I carefully photographed the wires for the old controller. There were two red wires (one M, one in zone 1) so I marked the one connected to zone 1 with tape so that I could tell one from the other. There were two bundles of wire: One all the colors of the rainbow for the zones, and one with just red and white, which runs to the pump.
What makes absolutely NO sense to me is that the red wire that ran to the pump was connected to zone 1, while the red from the wires from the controller were connected to M on the RainBird controller.
Using that same wiring, I'm getting the noise on the pump start relay.
Thinking it just HAS to be wrong, I switched the reds and nothing works. Switched it back and everything works, just with the noise.
Can someone explain the logic behind this? I'm including pics – it's not clear in the pics for the RainBird where each red wire originated, but the tape certainly didn't jump from one wire to the other.
Thanks for any help anyone can offer!
Original wiring on RainBird controller: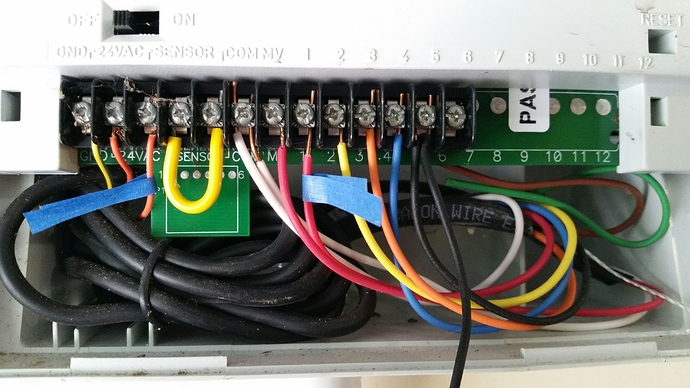 Wiring on Rachio controller: