Something doesn't seem quite right to me. Gen 1 Rachio.
Here's the scenario. This morning I discovered that my flower zone hadn't been watering because things were bone dry, even though Rachio thought it was watering (that's not the problem – that is probably a valve problem, but it precipitated the next problem).
Unbeknownst to me, my Zone 10 was watering. I didn't notice this, and I did a quick run on Zone 11 (probably around 12:24pm). The heads did not pop up. So I tried a quick run on zone 1, and it worked. Quick run zone 2, it worked. Quick run back on zone 11 and now it works. Let the zone 11 have two 3 minutes waterings.
Go back and look at History, and my zone 10 had been stopped, and the zone 11 quick run doesn't register at all.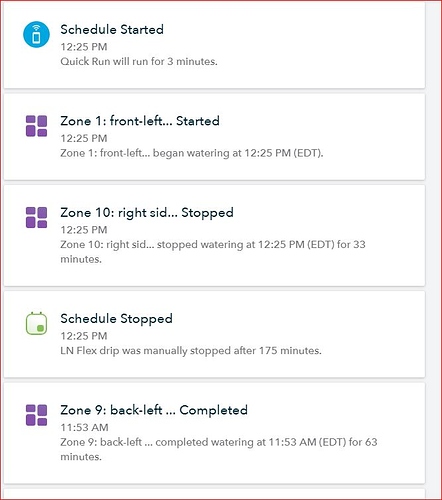 Question 1: If I do a quick run while the system is already running, shouldn't it tell me something to that effect?
Now here's where I start getting really confused. Zone 10 is supposed to run for 63 minutes. It was stopped at 12:25pm after running for 33 minutes.
At 12:49, the schedule started back up again, but it only wanted to run Zone 10 for 6 minutes. Not knowing what was going on, I stopped it from watering. But again, looking at the history, it thinks it went for 56 minutes. (again, making no sense as the total should have been 63 minutes).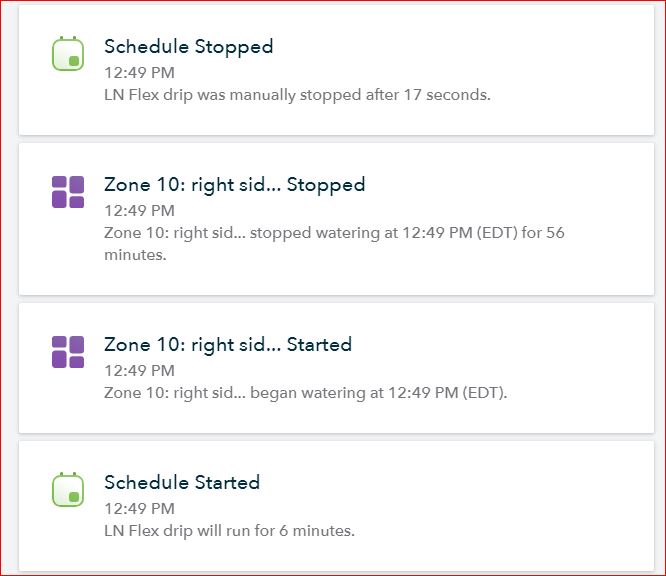 When I look at the watering history for the zone itself, it thinks it watered a much longer time!!!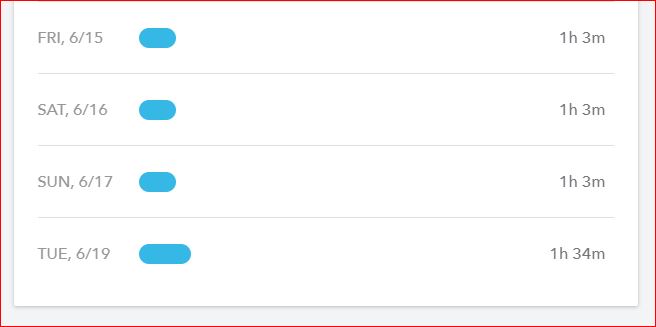 And the moisture level chart thinks it's getting LOTS of water!!!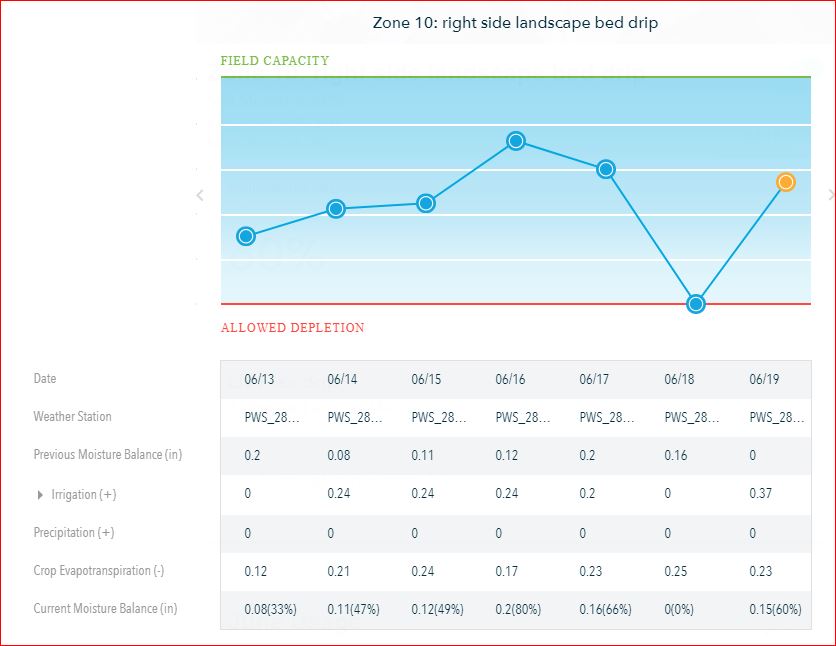 Because we went from last month thinking we were going to need an ark, to the depths of Hades this month, I did an additional quick run of 30 minutes on the zone so that my plants don't die, especially since it didn't water yesterday (That again was my fault – I was cleaning the deck getting ready to refinish it, and somehow managed to pop the ground fault that also controls the Rachio, so it was offline for awhile, again unbeknownst to me. - But in this case a big kudos to Rachio - I discovered a small leak in the drip line while cleaning that I wanted to fix, and when I tried to find it again, I discovered the Rachio was offline, which made me realize the ground fault had probably popped. And since that ground fault also controls my beer refrigerator, THAT was a big deal!!!)
To temporarily fix things, after it gets done watering, I'm going to set the zone to empty to make sure it will water tomorrow.
So, is something wonky? Or have I just gone wonky??? (It could be this crazy heat, high dew point and humidity has gotten to me at last!!!)