The engineering team is aware of this issue and working on a resolution. Will let you know when this is resolved. Thank you for reporting this.

Yes! And my controllers keep going offline (I have 2), and I keep getting notifications that I have a schedule starting, and my controller is showing that it is watering, but nothing is watering, nor should there be…
![Screenshot_20180407-105908|243x500]
(upload://8fEugTsVT2Mggz6Ebs5dNCgNTet.png)
Shows watering, but nothing is watering and I don't have the normal banner at the bottom of the screen telling me how much time is left.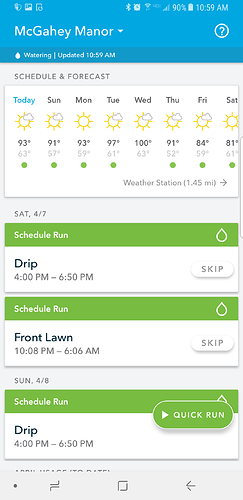 Thanks for the feedback and information, the team is working to replicate this and we will send out a firmware fix as soon as possible.

We have released a Gen 1 firmware update that should address the issues you are seeing. If it does not please let us know and we will troubleshoot further. Thank you for your patience and have a great weekend.

Great. Is a firmware update just done automatically or is there something I need to do?
It is automatically applied to the controller.

So far mine seems to be functioning as normal. I'll keep an eye on it!
I still had some weird behavior this morning. My front drips are supposed to run for 127 minutes. Here are two screenshots in succession from my history. If first says the drips will run at 4 AM. Then he gives me a schedule started again at 4:45 AM . At 6:07 AM it says the schedule is completed. It then runs the schedule again totaling 254 minutes of run time. And if you look at the screenshot of all my zones you will see that it wants to water the front yard again in the 9 o'clock hour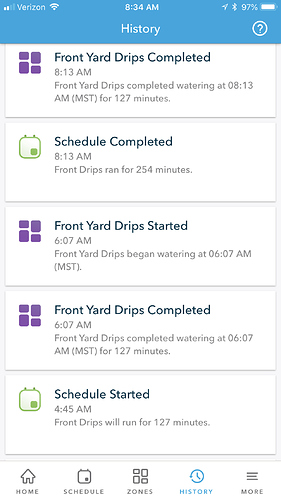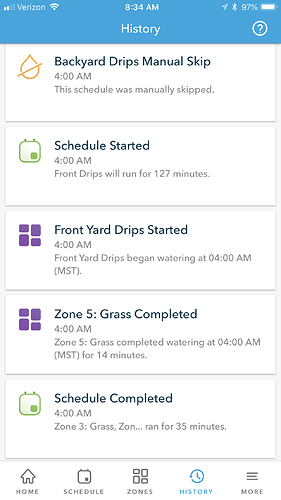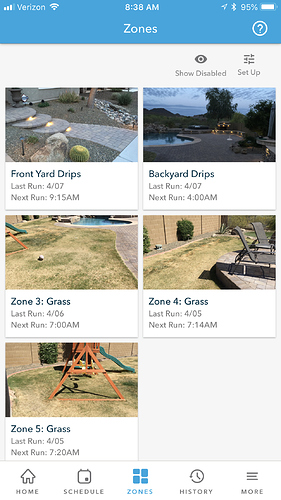 I've forwarded this to the engineering team for review. I will let you know what is found. Thank you for reporting this.

I am having similar issues with my system. I get a notification "schedule started. yard water schedule will run for 342 minutes" yet it doesn't run due to it not being the correct date.
I will DM you for more information.

I haven't been able to connect my gen1 since October of 17. Replaced wifi 6 times with different mfgr and models and still can not connect to anything on my network. Was working great until the update last year and now that it's spring I'm just ready to throw this beast in the river! I've been trying to get this thing connect for 6 weeks now!
@LordDelacroix Have you tried contacting Rachio support directly? My guess is that they could get you going again.