Having similar problem as others have had; wildly inconsistent and sometimes zero readings.
On zone 1, it almost always tells me that no flow has been detected during calibration. Zones 2 and 3 often show drastically different readings from one measurement to the next during calibration.
I've watched the water meter when running all three zones and water usage appears to be roughly the same on all zones. Pressure at all heads seems fine and there are no (known) leaks.
I've seen mention of turbulence in the lines causing problems. Here's a picture of my installation. I can't mount the meter near the backflow valve because it isn't high enough off the ground.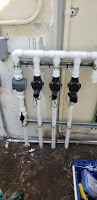 Thank you!