Okay so my meter man came and I'm in a new month of pricing so I let the Flex Schedule rip. I'm a bit paranoid about another huge water bill so I'm watching this thing like a hawk.
Hand typing what the Flex schedule says today that it is doing and will do over the next two weeks looks like this: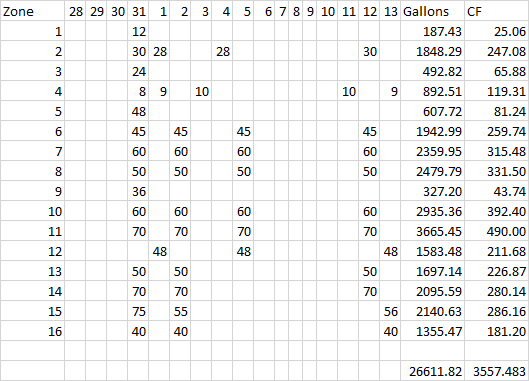 That two weeks and >26K gallons is going to cost me $227 - if it repeats the same thing the following two weeks it gets worse because now I'm moving into exponential pricing. My bill for August would be $914 for 52K gallons (7K CF) of water.
Oddly enough it waters Zone 1 once in two weeks.
I'll watch the soil but it seems like the depletion rate is being calculated as higher than it will be actually - probably based on the variables I typed in. I measured GPM at the meter for each zone, built custom nozzles per zone, and hand measured the square footage.
It feels high because I had my irrigation system nearly shut off for about two weeks and the grass is still green. However, the weather is predicted to be pretty hot.
Fri 93/61
Sat 91/57
Sun 88/59
Mon 81/57
Tue 77/57
Weather Station: PWS_DRAGONKP 1.63
Any suggestions on how I can check the soil and change some variables so the ET becomes more accurate?
This seems like quite a lot - been running from 4 AM to just past 7 PM. 678 minutes in a day - I guess I really need to move my start time back? This was watering all day during 91 degree weather - which seems sub optimal.
Now it recalculated and intends to water for another 7 hours and 40 minutes tomorrow 8/1 (unlike the schedule above). That is too much - I put in a rain delay. (note - this is because Iro thinks the zone is still is depleted and, in reality, there are puddles of water on the surface).