I recently built two 8' x 4' raised garden beds and installed two drip zones one for each bed. Within each zone I used a 40 PSI regulator/filter combo with three 6' runs of 1/2" Dig Drip Line across the top of each bed with approx 1' between each run. For this season I am planting tomatoes, bell peppers, jalapenos, and hatch chilis in the left bed (top of photo), and egg plant, okra, and watermelon in the right bed (bottom of photo). Below is a photo of the setup: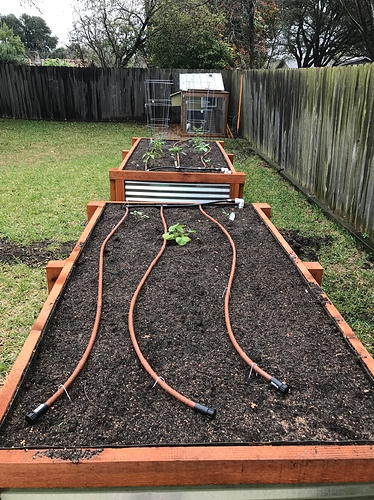 Below is the product that I used:
http://www.digcorp.com/homeowner-drip-irrigation-products/drip-line
In my zone details I have selected annual vegetation, the soil is a mix of 70% compost and 30% sandy loam so I chose Loamy Sand, it gets lots of sun, and then I created a custom nozzle and specified it as an emitter with a precipitation rate of 2.3
Formula I used to calculate precipitation rate:
(231.1* x Emitter Flow Rate) ÷ (Emitter Spacing x Row Spacing)
e.g. ((231.11)/(1812)) = 1.07 in/hour
For now the area is 32 sq/ft I set root depth at 4 inches, allowed depletion of 50%, efficiency of 90% (nothing is 100%), and crop coefficient of 60%.Throughout the season I am planing on adjusting the root depth to 18 inches once the plants reach maturity, upping the crop coefficient to 100% during peak season, then adjusting the coefficient down to 80% as the season tapers off.
Does this seem right or are there any adjustments that I should be making?
Edited precipitation rate thanks to Emil!