Hi all,
So, during the last two weeks I tried (with your help) to understand why my Rachio was skipping schedules although there was no Rain. At the end, it was because schedules have been too close in time to each other (a major algorithm bug, hope it will be fixed soon - or in V3… whatever comes first!).
Today the rain arrived! I was hoping for Rachio to skip watering today, as the rain forecast was above the set threshold. I was happy to see this message
"Today at 4:05 AM
Every day at 5:00 am skipped since station LLSD predicted 3.30 mm of precipitation with a total threshold of 3.17"
But then I peeked at the watering history and…
"Today at 4:02 AM
Started Every day at 5:00 am for 160 minutes"
You can see the two conflicting messages on the screenshot below.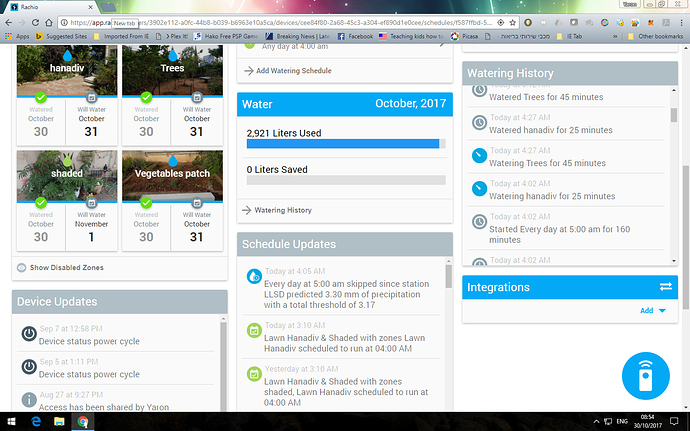 What is going on? Could it be that Rachio started a schedule, and only then checked if it needs to skip? I don't get it.
btw, locally daylight savings ended Saturday. It seems that for the scheduled watering it hasn't. The scheduled planned to start at 4am, started at 3am, and so on… don't know if it relates.
Would appreciate any insight.
Thanks,
Yaron