Here is one of my recent copper installs. 3/4" copper to 1" WFM back to 3/4". This has a master valve as well.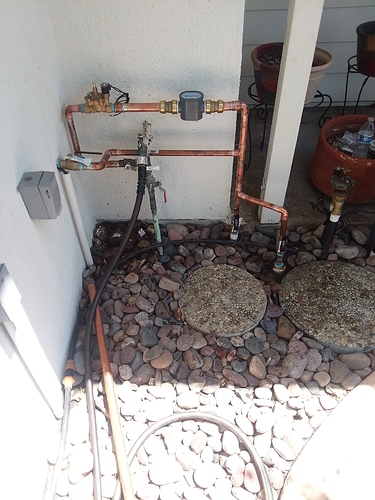 This one had a main line running to three areas on the same property.
@spscoutenPhD That's one clean looking install. Thanks for sharing!

You are most welcome. I like to make sure my instals are goood which then showcases your product.
I guess the next gen of flow meters would be to have a few colors available. Copper and BOX pipes can be painted but ABS doesn't like the solvents in certain paints.
White, green, brown and grey would be a good selection.

Install looks great, however it appears to go against Rachio's "official" installation guide for 3/4 copper??
I concur that it isn't to the exact guidelines yet this was a way for me to tune it on a 100% drip system.
I originally had the master valve in a vertical position which left the WFS within the exact guidelines. For
some reason, the valves would cavitate on the front zones.
I did keep the minimum 6 inches prior to the entry of the WFS and shortened the output side which helped with the harmonics of the system. This was my first original "Work around" to solve a problem that was never in the FAQ for this site.
The system GPM measures very close to what it was designed at.