I recently moved to a new property with an 8 zone irrigation system. Zones 1-7 functioned properly on the old Rain Bird controller. I could not get Zone 8 to function and I can visually see sprinkler heads that have not turned on. I ended up upgrading to a Rachio 3 and intended to figure this out on my own. Zone 8 still does not function.
My before and after setup is as follows: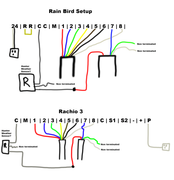 The wiring is confusing.
There are two black lines with the colored wires within. There's also what appears to be a Hunter Rain Sensor on the roof with 3 lines (one not terminated).
Black grouping line one
Red = Zone 1
Blue = Zone 2
Green = Zone 3
Yellow = Zone 4
Brown = Zone 5
Black = Zone 6
White = Zone 8
Black grouping line two
Red = Connected to rain sensor
Blue = Zone 7
Green = Not stripped for termination
White = Not stripped for termination
Rain Sensor
One line to the common
One line to grouping line two's red line
One Not stripped for termination
Any thoughts on how to set this up properly?