I feel like I've looked everywhere, but I can't find where to select which PWS I'd like to use. Thanks!
Hey, weather can be set up and configured at the "Home" level now so that if you add more devices to your home, they all stay synced with their weather source.
You can edit this by tapping the back button from the Home tab while viewing an irrigation controller, and then, based on your setup, you will see an edit home button below your devices. Or (if you have many) you can tap the account icon in the top corner, select the "Homes" option and tap in to edit the Home you want.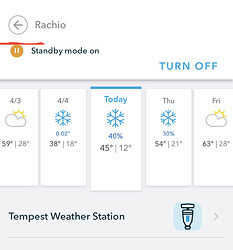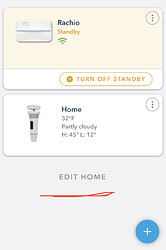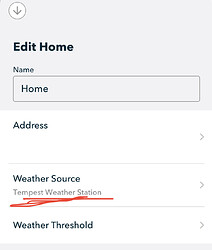 Okay, thanks. I have now confirmed that I'm using my own PWS (Wunderground) for weather. However, when I click on Home, it shows my upcoming days' forecast. Where is this forecast coming from, it doesn't match the Wunderground forecast for my PWS.
I'm not sure about this. Let me pass this along internally and see if there's any known bugs around this. It will / should use the weather source you have selected which would be the one you just updated to. If I hear anything I'll post back.
I heard back on this. We use PWS (personal weather stations) for observed and weather we're seeing now, but for forecasts we use our weather provider. I believe this is due to where forecasts actually come from, even from a PWS (as with one individual station, the forecast is generated by info from all stations in that stations network along with other data). Hope that helps answer your question. If the forecasts you are seeing are drastically different or off from what you observe, let us know and we will be able to check in with our data provider on that.