It has been noted in these forums that for certain climates, such as here in Arizona, we set fixed schedules to run at multiple times a day, to prevent runoff from the incredibly hard soil. This is the point that confuses me the most with regards to Rachio non-fixed schedules since I know there is an attempt to take that into account.
I'm anxious to setup my new "As Needed" schedules, but get stuck when I try to translate a 2 or 3 times a day Fixed schedule to "As Needed". Here's what I currently have set: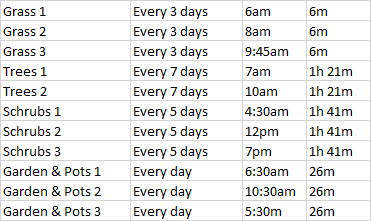 So I have 3 start/end times for my grass zone, 2 for trees, 3 for shrubs, and 3 for 'Garden & Pots'. I made an attempt to setup the nozzle and soil types for each of the 4 zones. For "As Needed", do I need to now set up 4 schedules, one for each zone, or do I need to repeat the schedules per zone if I want to spread out the watering per day as I did above in 'Fixed' ???
thanks!
Dave