Our miserably rainy spring continues here in the Boston area. I honestly think my poor little Rachio has not had a single chance to perform a full watering schedule since installing it weeks ago. That's great and all that I'm not wasting well pump time, but it must feel lonely. Like a poor minion without a villain to look up to and perform a job.
I looked just now at the moisture levels and predicted water schedule for a zone to see it plans on running June 3rd and dumping ~0.36" of water into the lawn to bring it from 33% to 97%. It must be so excited to perform its job!

But… wait a minute. The graph keeps going up for the two consecutive days afterwards.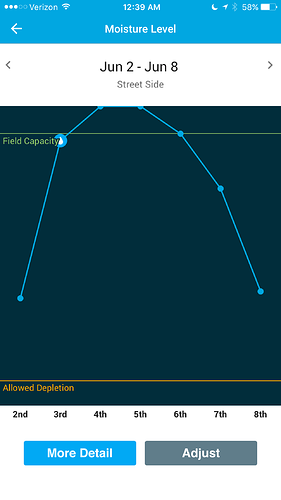 Ah… KTAN is forecasting 0.88" of rain over those two days.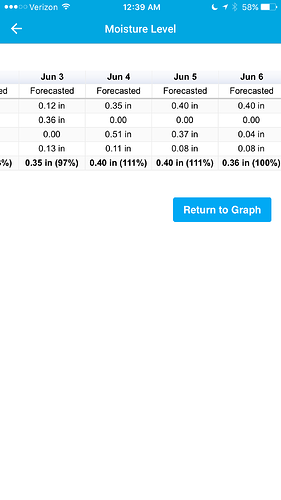 We're still just over 48 hours from when it is supposed to run so anything is possible, but when I see something like that it starts to cast doubt into the smarts of a device. Would dropping my Allowed Depletion from 50% to a lower figure help me avoid situations like this?
It feels a little silly to pump the lawn full when mother nature may take care of it soon after anyway. I'd rather let that forecast play out and then let the Rachio make up the delta if necessary. I know I can manually enable Rain Delay, but I'm hoping the closer to the 3rd we get it starts taking the 4th/5th into account and does the smart thing on its own by looking ahead a bit.