Hi,
Anybody else in Australia experiencing problems with the Rachio App weather forecast not working?
Yes, no WX icons, future temperatures show as ??/??.
Yes, same here and the other 2 people I know who have a rachio here in Australia.
Yeah, and issue here. Feedback from Rachio is that the weather provider in Australia is planning an update on October which may fix it, but they saying that they will not confirm functionality outside of US or Canada and they do not have inside into the info provided from Australian weather provider. So totally in limbo and seems not much support from rachio
Solved! Thanks for your efforts!
US, California not showing any forecast and has stopped watering as of 10/4
Seeing the same thing - US, Colorado
Mine did water this morning, but all future schedules are now gone.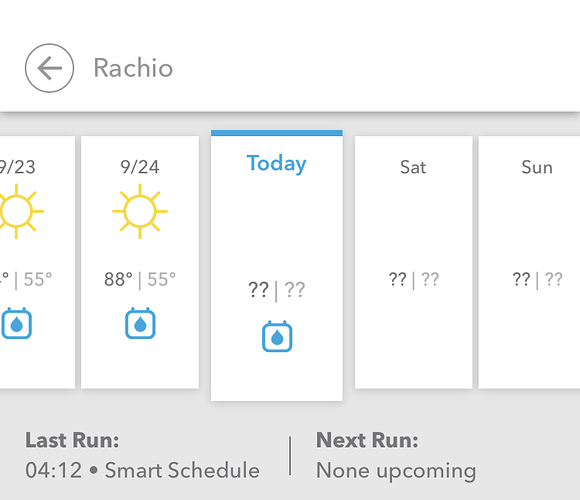 same problem in California, weather data has disappeared as of 10/4
Thanks for the heads up! Yes, everything is working again from what I see.
Had to fiddle with my flex schedule a bit to get it to re-start, but sure that would have picked up in time.