Super helpful. Thanks! This is really the best product community I've seen.
Glad I'm coherent enough to be understood… haven't had my coffee yet

I just installed my Gen2 in Feb and knew nothing about any of this prior to that. It was this community that allowed me to ask questions and pick up the concepts.
Keep in mind, flex will never adjust your watering time. By tonight that graph will be updated to reflect the water applied minus et
OK - I noticed something else that doesn't look right to me - hoping some folks can help. Yesterday, my weather station reported .38inch of rain (says last 24 hours, but I confirmed its all in yesterday):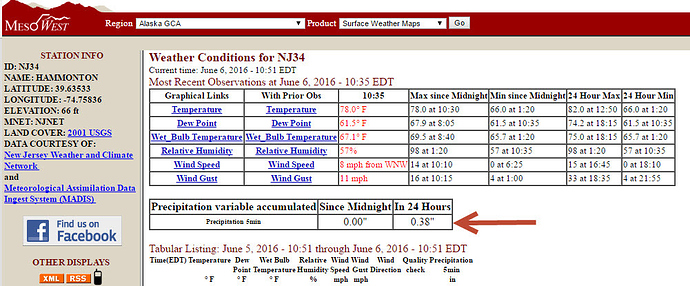 However, when I look at any of my zone's moisture levels for yesterday, it shows that no additional precipitation occurred. Isn't this incorrect?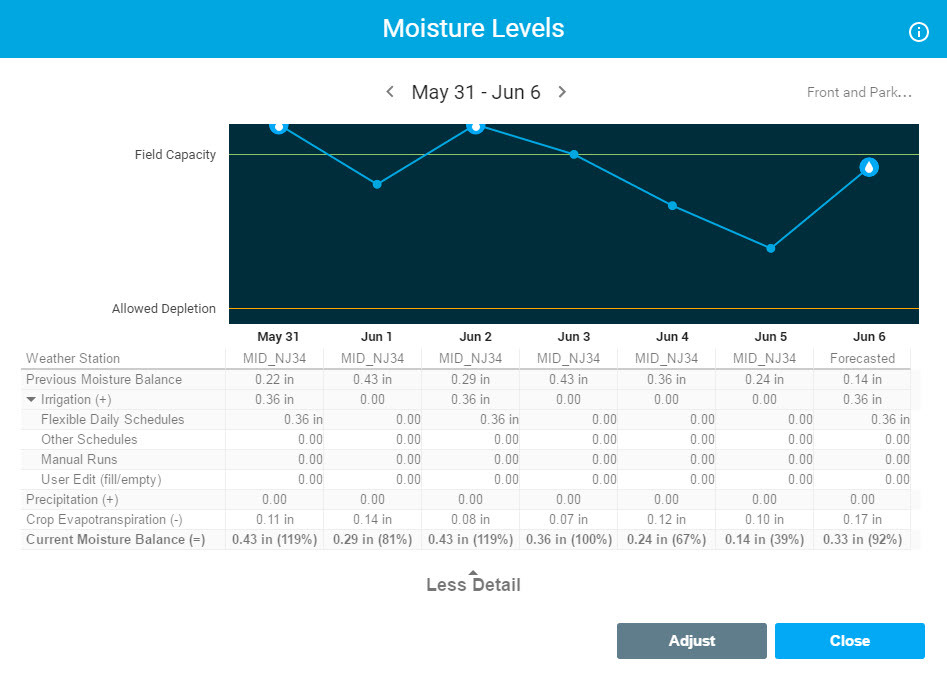 Most likely your selected weather station is not getting its precipitation data recorded. If you go to Change Weather Station, it will sometimes have in red something like No Precip Data Recorded. This happens relatively frequently with my closest PWS, so sometime I have to change to using one about 3 miles further away because it's data seems to always be recorded.
And even if it shows correct now, it might have not been working correctly when the IRO ran its numbers. I have also seen this happen.
When you say its not getting its precipitation data recorded, you mean recorded to where IRO pulls from? I've not had a problem with it until now. As you can see here - its a pretty legitimate PWS.
@mbaturin I've opened a ticket with Aeris our weather data provider and will let you know what they report back.

@mbaturin Good news from Aeris!
Franz,
The issue with this station is the source is sending the data in 5min intervals vs the standard 1hour or 24hour formats. Essentially the data comes in as a different dataset and has to be parsed and handled differently.
The good news is that we have added support for utilizing the 5 minute intervals in testing now. This was scheduled to go to production tomorrow but due to the tropical storm we have locked production updates. We have since rescheduled this to go into production this Thursday, June 9th.
I will keep this ticket open and provide an update once the update to support 5 minute intervals is in production.
AerisWeather Support
http://support.aerisweather.com/
Wow - awesome! Thanks for the fast feedback! I guess I will take another look this Thurs/Friday to see if it's working. It does make me wonder how it was working before though.
Hey @franz - just wanted to see if we could followup on this to see if it went to production?
@mbaturin I've pinged Aeris, will let you know what I hear. Also, I'm working on a side-project at night that I think the community is really going to get behind. More details later


Looks like the IRO is still not logging precipitation correctly. It rained heavily over the last couple of days where I am but the Moisture Level Graph data shows 0 precipitation. Should I change weather stations?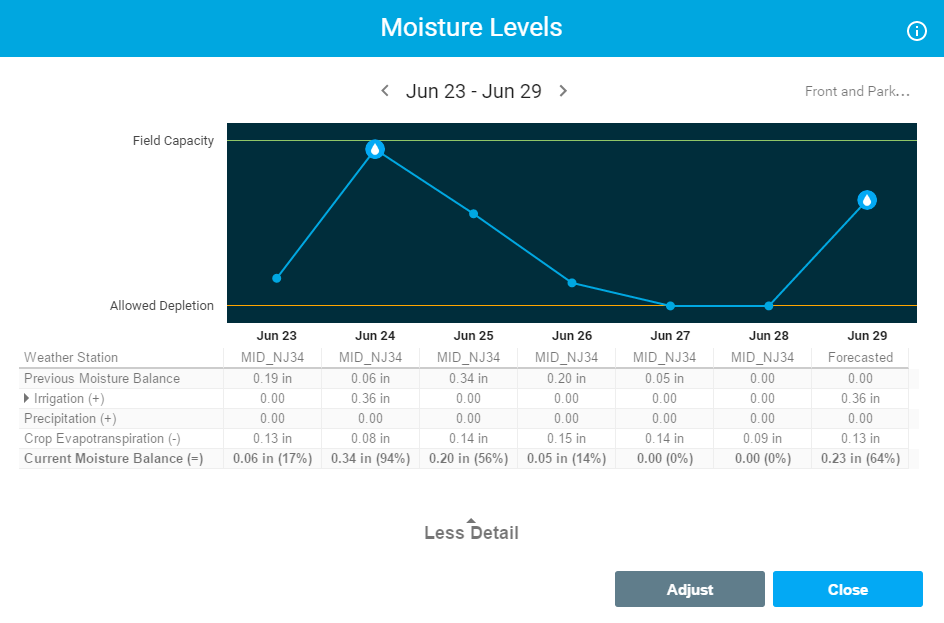 @mbaturin Pinged Aeris again, will let you know what they say.

How to grow a money tree?

@mbaturin Looks like your issue will be resolved July 5th.
Support for 5minute intervals has been added and in production for our ingestor. Though support within the observation/summary endpoint is currently in staging and set for production release this Tuesday July 5th.
This update includes support for calculating daily precip based on the 5 minute intervals, improved support for 24 hour precip values, and the additional of the estimated precipitation based on an analysis of the radar and official gauge data.
I will provide another update this Tuesday July 5th once the production update has occurred.
Awesome thanks for the update.
Hey @franz did they provide the update on the 5th? Debating switching back to the NJ34 station less than a mile from my house instead of the closesnt non-PWS over 20 miles away if they fixed the precipitation issue.
Sounds like it is going out today (this is from yesterday).
That said, on the updates scheduled for yesterday, they were postponed due to a couple bugs found in staging over the fourth weekend. They have been corrected but needed additional testing. We have confirmed they are ready to push to production, but now NOAA has upgraded the severe weather potential to Moderate this afternoon. Because of this we have a lock on updates to the production API to ensure no outage during a severe event and due to increased volume.
Our team has rescheduled the production push for 6am CT (4am PT) tomorrow. There should be no schedule downtime with this update.
This update will add the analyzed precip estimate which can be used in cases where a station precipitation may not be available.
AerisWeather Support
This is the time period of product development where typically the highest volume of truly innovative ideas get implemented. It's like you need a Generation 1 product (I'm referring to your cloud s/w) to be able to really see what you really need to do.
It's at this point where maximum attention is needed to patents. Make sure that your team is going crazy asking for for patents on every algorithm, process and implementation, regardless of how trivial it may be.
You're going to need Ethernet for the town and city park irrigation systems, and the homeowners who insist, BTW.
Best regards,
Bill
Hey @franz - any chance you would be able to check on the status of them putting in the new functionality for the PWS's like the one near my home? Still doesn't seem to be logging any precipitation.