Hi All,
I'm looking at picking up a Gen 2 with the Amazon sale this weekend. I do have a couple of questions that I'm hoping you all might be able to help me with before I proceed. Here's a picture of how the zones are laid out right now, with dots representing heads.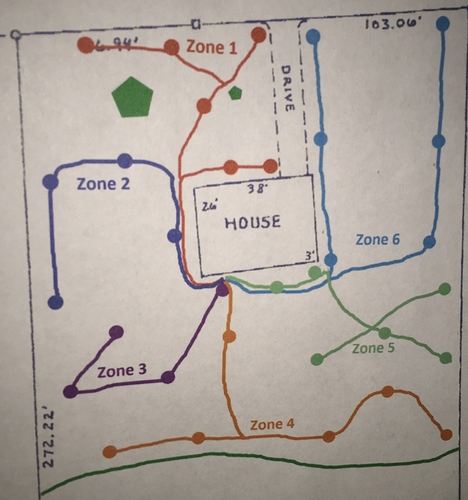 The entire area being watered is grass. I'd like to get a Gen 2, but I'm not sure how it'd work out for me. Unfortunately, the contractor that originally installed the system years ago just eyeballed it. I'm not in a position right now to re-engineer the zone layout, but I could definitely swap some nozzles.
The way the system was put together, all of the zones intentionally overlap so there is coverage throughout. For instance, Zone 2 heads overlap spray with both zones 1 and 3. Here are some notes on the zones:
Zone 1 is 2/3 under a large tree (shady) and 1/3 sunny
Zone 2 is moderately sunny
Zones 3-5 take a beating from the sun, being south-facing and in direct sunlight. Also, in between zone 5 & 4 is the top of my septic tank. There's only 6-8" of dirt on top of the tank and given the heat generated by a septic, it's always drier than everything around it.
Will a Gen 2 help me out enough to justify the cost given the significant zone overlap and variation in conditions, if I'm not in the position to re-engineer the head and zone placement right now?
Thanks