I'm preparing to winterize my system and checking what the Sprinkler company experience will be when I grant Limited Access.
So, I followed the instructions and the email was sent as expected… clicking the link in the email opened up the website on iPhone (iOS 10.3.3) as expected… from the "Remote" screen, I "Set all zones to:" 2 mins and then pushed the "Run" button… all good and as expected so far.
After pushing the "Run" button, he display gets an overlay message "Sending to device" with the spinner loop… this remained on the display for the entire duration of the running of all zones for 2 minutes (total of 12 minutes).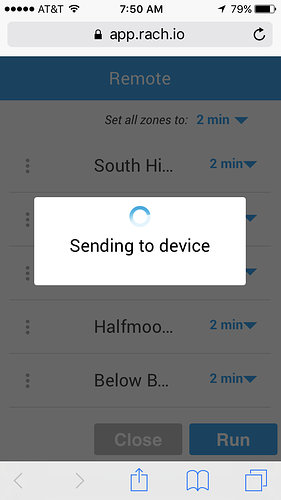 In order to clear the screen of this "Sending to device" overlay after the run was complete, I had to use the refresh button at the top of the browser screen.
Is this expected behavior?.. seems kludgy.