We've had a lot of rain the last couple days and today. I have a Daily Flex Schedule setup to run my 3 zones. I noticed that it is planning on running tomorrow morning, 2 of my 3 zones (backyard and trash side). Considering they were 110% moisture balance as of end of day yesterday and currently projected to be at 95% moisture balance at end of today, I wouldn't expect the sprinklers to run tomorrow.
I know a few factors go into this, including allowed depletion. I have this set for both of those zones at 50%. I thought this means the system should not water unless it predicts that it will fall under 50% based on next available watering time + predicted weather up until then. My schedule does not allow for watering on Friday and Saturday, so would I be correct in assuming that the system believes if it does not water tomorrow (Thursday), it will be under 50% by Sunday? I guess I could believe that since the weather over the next 3 days is supposed to be around 75-85 degrees with only 20% chance of precipitation.
My only hangup there is that I don't want it to oversaturate the lawn in an attempt to compensate for the possibility of falling below allowed depletion. Is there a setting somewhere to max out moisture balance?
Here are some photos showing the settings I mentioned above.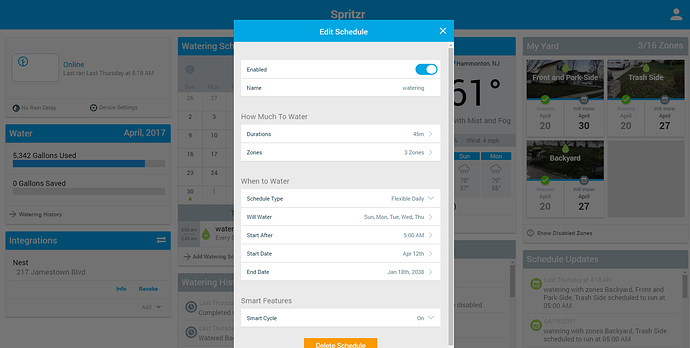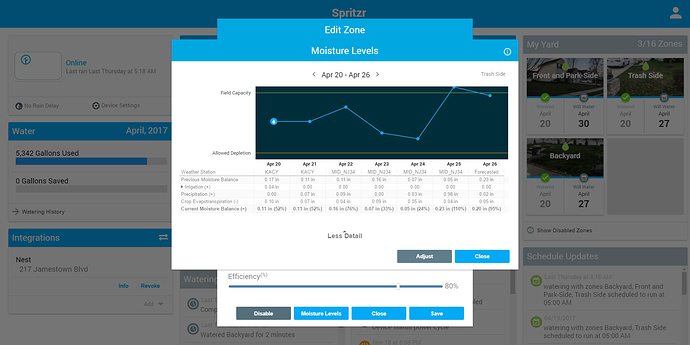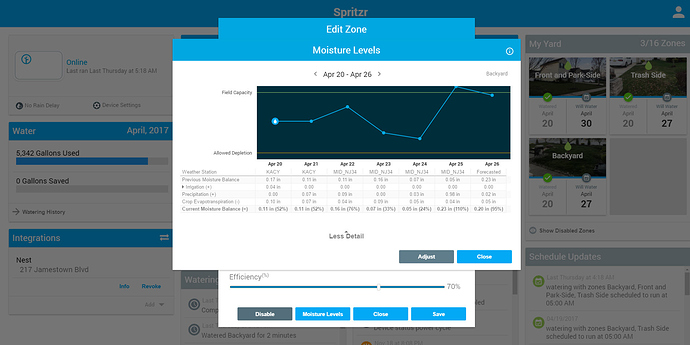 And one more question, is there a way to make the time each zone runs flex based on necessity?