Android setup "Continue " button was off of the scrfeen and I Had to use another Android device for setup
Can you tell us the make/model of the phone and version of Android?
Thanks for reporting!

Sure,
I was able to set it up since then but I wanted to let you know it would have been a problem if I did not have another device.
I did notice with this phone also that when you "Edit Watering Schedule" you can't do anything in that either because it is all off of the screen related maybe?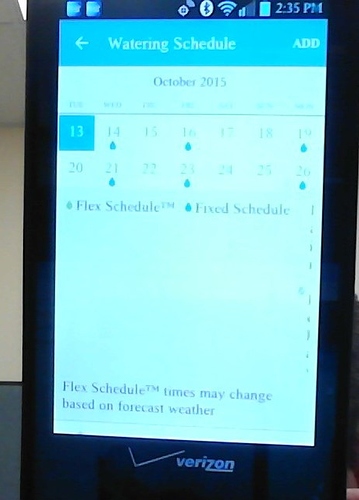 It is an LG VS840 4G Android 4.0.4.
I currently have a trouble ticket as well because I am unable to take the Iro out of standby once it is in standby without contacting you.
Ok thanks for this, we will track down the issue and let you know what we find.
Have a great day!

I believe we have a fix, it was a size/font/layout issue.
I will release today, look for 2.2.5-120.

Franz,
Thank you for your quick response regarding my issue. i installed the update. Was the update specifically for the Setup issue or was it for the "cannot get out of standby" issue or maybe the "all the words are off the screen when I try to edit the watering schedule" issue. Because I have not seen any changes in these issues since the update.
Hi,
Android developer here.
The update should have fixed the "device settings" cog icon from disappearing when you enable standby.
If it still doesn't work for you I'll take another look.
I'm looking at the issue with the watering schedule now. As a workaround for now reducing your font size temporarily might make it usable.
Cheers,
Daniel
It did fix the Standby Issue. Thank you so much!
If you PM me your Google email address (the one you use to login to Android) I will send you another beta build that will hopefully address your other issue.
Thanks!